Just another way to make a Chinese Noodles, this Canton Noodles with Pork Recipe is a fun and easy one pot meal that is from refrigerator to table in well under 30 minutes. 


Canton Noodles with Pork
Print recipe
| | |
| --- | --- |
| Serves | 6 |
| Prep time | 5 minutes |
| Cook time | 15 minutes |
| Total time | 20 minutes |
| By author | Dish Ditty |
Ingredients
3 tablespoons Oil
2 cups Marinated Pork (see notes for Recipe)
2 tablespoons Cornstarch
1 cup Green Onions
3 cups Shredded Cabbage
1 cup Shredded Carrots
1 Package Dry Canton Noodles Oriental Style (~13 oz)
2 cups Chicken Broth
1/2 cup Chicken Broth
2 tablespoons Soy Sauce
2 tablespoons Lo Mein Sauce
Directions
Step 1
Mix together the Cornstarch with Marinated Pork. Set aside
Step 2
In large skillet, heat oil on high heat. Once hot, add the pork and cook until browned.
Step 3
Add the green onions, cabbage, and carrots. Cook until they start to soften, about 2 minutes.
Step 4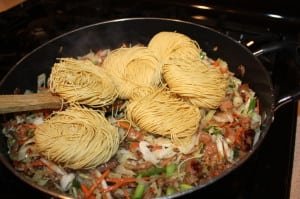 Add the dry noodles and chicken broth, soy sauce and lo mein sauce. Push the noodles down into the broth and cook covered on medium heat for 5 minutes, stirring occasionally to separate the noodles.
Step 5
Uncover and increase the temperature to high. Cook on high until the bottom is crispy.
Step 6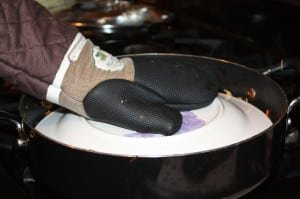 Flip over onto a plate and serve. Using an oven mit, place a plate on top of the noodles. Place the oven mitt on the bottom side of the plate and flip the pan over.
Step 7
Another look at flipping onto a plate.
---
Dry Canton Noodles are also pretty easy to find and can be found online.