Such a simple thing, Caramelized Onions, but so many people fail to actually extract the sugars from the onions.  I've had steamed onions, burned onions, and mushy onions from friends.  So this is to all of you to help you learn how to make the perfect Caramelized Onions!
Caramelized Onions
Print recipe
| | |
| --- | --- |
| Serves | 4 |
| Prep time | 3 minutes |
| Cook time | 10 minutes |
| Total time | 13 minutes |
| By author | Dish Ditty |
Ingredients
1/2 Sweet Yellow Onion (sliced)
2 tablespoons Vegetable Oil (or other oil with high smoke point - not olive oil)
1/2 cup Water (divided)
1/4 teaspoon Salt
1/4 teaspoon Pepper
Directions
Step 1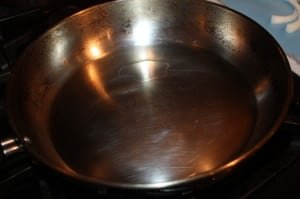 Heat a stainless steel skillet on high heat with the vegetable oil. The oil should be hot and almost to it's smoke point.
Step 2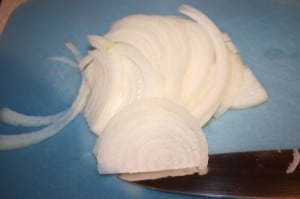 While the pan is getting hot, slice the onions thin.
Step 3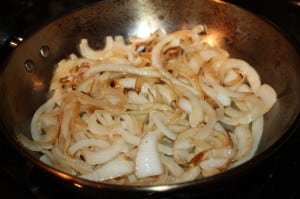 Add the onions and cook them, stirring frequently, until they start to get translucent and are starting to brown.

DO NOT OVERCROWD THE PAN! You don't want to have mushy onions, so don't try to fill the pan to the rim with onions. They need room to allow the moisture to escape; otherwise you'll just be left with steamed onions, not caramelized onions.

Also, you do not want to burn the onions, this is a browning process where you try to extract the sugars from the onion.
Step 4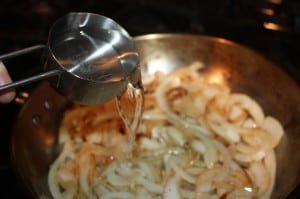 Next add 1/8 cup of water to the pan and continue to cook on high until the water has evaporated.
Step 5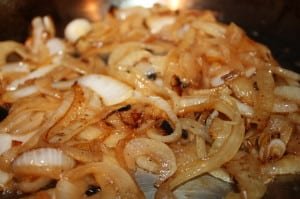 Next, add the remaining 1/8 cup of water and cook until the water is evaporated.
Step 6
The onions should be a caramel brown color and are perfect to add to any burger or sandwich. Season the onions with Salt & Pepper.
---
The process for caramelizing onions is simple. But there are a few things to remember:
Don't put too much in your pan! I've made this mistake many times when trying to cook for a large crowd.  Instead do the onions in small batches. You will be pleased with the results.
Let all the water evaporate in at least 2 additions. Be sure to give the onions time to release their sugars.
Don't burn the onions! This is a common problem, most people see the brown color and think they need to actually burn the onions.  You don't.  A few thin pieces may be burned, but try to limit the burned onions.