Using Cauliflower instead of Rice for in Fried Rice?!? Blasphemous? Well, maybe not. It's actually pretty tasty and a great low-carb side dish when you just are craving a little more than stir-fry vegetables.
Cauliflower Fried (NOT) Rice
Print recipe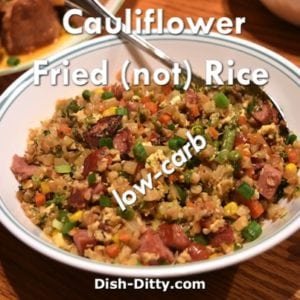 Ingredients
1 tablespoon cilantro paste (or 2 Tbl fresh chopped)
2 tablespoons soy sauce
1/2 tablespoon rice wine vinegar
1 tablespoon Lo Mein Sauce (Panda brand)
2 1/2 tablespoons vegetable oil (divided 2 Tbl + 1/2 Tbl)
1/2 polksa kielbasa (a.k.a. Polish sausage)
1 cup frozen mixed vegetables
1 Package cauliflower crumbles (about 2-3 cups chopped cauliflower)
1/2 cup Egg Beaters
2 green onions (chopped)
Note
You can substitute the polish sausage with ham, Chinese roasted pork, Chinese BBQ pork, chicken, etc.
Directions
Step 1
In a bowl, combine cliantro paste, soy sauce, rice wine vinegar and Panda Brand Lo Mein Sauce. If you don't have the Lo Mein sauce you can substitute with Oyster sauce and add 1/2 tsp sugar. Set aside.
Step 2
In a large pan or wok, heat 2 Tbl. vegetable oil and cook polish sausage until hot and starting to brown.
Step 3
Add the frozen vegetables and sauce and cook, stirring constantly, until sauce is bubbly and vegetables are no longer frozen, about 2-3 minutes.
Step 4
Add the crumbled cauliflower and cook, stirring constantly, until hot and liquid is evaporated. This may take about 3-5 minutes.
Step 5
Create a well in the center of your rice to cook the eggs. Add the remaining 1/2 Tbl. vegetable oil and pour the egg beaters on. Let the egg beaters start to cook before you stir it around. Cook the eggs, mixing occasionally to cook evenly, and then stir into the cauliflower mixture. Cook for another minute or so, stirring constantly, to combine well. Add the green onions and remove from heat.
---
Living Low-Carb doesn't have to mean living Low-Flavor. I am constantly on the prowl for any opportunity for variety in my mostly low-carb lifestyle. I've been seeing Cauliflower Fried Rice floating around the internet for a while, and saw it already prepped in the store, so I thought it was finally time to try to make it.
So, one night, when making Chinese stir-fry and fried rice for the family, I decided to make the plunge. I was pleasantly surprised. Let me start by saying: I am not a cauliflower fan. I am learning to eat it and can eat it when drenched in cheese (not the healthiest alternative) or cooked in curry (since it covers all the flavor). So, I wasn't sure how I'd like this.
I'll be straight with you. It is not fried rice. Don't expect it to be exactly like fried rice. However, it is a good side dish to compliment your meal and give you the feeling of being full without having to eat a whole ton.
So, try it or not, your choice. But what do you have to loose?
Enjoy!