I love chocolate, and fudge is a beautiful representation of chocolate. This fudge, however, is so light and creamy that it is something all together different. Bright, light, and purely scrumptious, this fudge is simply the best.
Creamy Lemon Fudge
Print recipe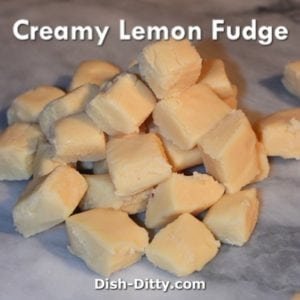 Ingredients
2/3 cups evaporated milk
7oz marshmallow cream (one jar)
3 tablespoons unsalted butter
1 1/2 cup granulated sugar
1/4 teaspoon salt
12oz white chocolate chips (one bag)
2 teaspoons lemon extract
2-4 drops yellow food coloring
Directions
Step 1
Line an 8-inch square pan with aluminum foil, leaving an overhang to allow the fudge to be easily pulled up out of the pan. Press the foil into the corners and set aside.
Step 2
In a heavy 3-quart saucepan, add the evaporated milk, marshmallow creme, butter, sugar and salt. Heat on medium-low, stirring constantly with a wooden spatula until the mixture comes to a boil. Occasionally scrape the bottom of the pan with a rubber spatula to make sure the mixture is not burning.
Step 3
As soon as the mixture comes to a full boil, immediately start timing for 5 minutes, continuing to stir constantly. After the five minutes are up, the mixture will have caramelized slightly giving it a pale golden color. It isn't necessary to test the mixture with a thermometer, timing it works great. When it reaches this stage, the temperature will be between 226-228 degrees Fahrenheit.
Step 4
Remove the saucepan from the heat and add the white chocolate. Using a wire whisk, whisk the mixture until all the chocolate is melted and smooth. Stir in the lemon extract and food coloring.
Step 5
Quickly pour into the line pan, smoothing the top. Let the fudge cool on the counter top first. Then chill in the refrigerator until firm.
Step 6
Remove the fudge and foil from the pan by lifting the corners of the foil. With a long sharp knife, cut the fudge into pieces. Wrap tightly to store. Freeze for longer storage.
---
When traveling to Oregon over the fall, I went to a little coffee shop and they were selling homemade fudge. Of course they had a buy 3 for a cheaper price… and I just couldn't resist. I bought the classic fudge, lemon fudge and coconut fudge. The lemon became my favorite.
So, at Christmas when my friend was making fudge, I had to have her try to make lemon fudge. I went out and bought the extract and boy was I thrilled. It was 10x better than I expected.
Just a warning though, one piece is not enough. 🙂
Enjoy!