This really isn't anything special.  It's a classic chicken soup recipe that I grew up on and loved whenever my mom made it.  My mom, Cheri, usually made it with homemade noodles she learned to make from her mother. I will eventually put the recipe for the homemade noodles here, but it's not something I make often as it is a little time consuming.
You can use this recipe to create a delicious chicken stock as well, just strain the vegetables and chicken and skim the fat for a delicious homemade chicken stock.
Chicken Soup
Print recipe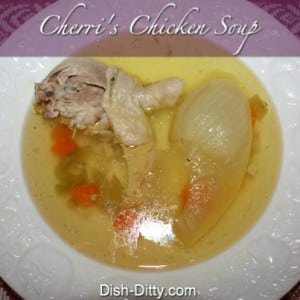 | | |
| --- | --- |
| Serves | 12 |
| Prep time | 5 minutes |
| Cook time | 1 hour, 30 minutes |
| Total time | 1 hour, 35 minutes |
| By author | Cherri via Dish Ditty |
Ingredients
3lb Chicken (*See Note)
1 cup White Wine (optional)
10 Black Peppercorns
2-4 Stalks of celery (cut in pieces)
2 Whole carrots (cut in pieces)
1 Medium Onion (peeled & cut in half - or cut into pieces)
2 Bay Leaf
1/2 cup Parsley
Salt
Note
Use any parts available but try to include backs, necks and gizzards. I prefer a whole cut up chicken.  You can choose to remove the skins, but I find that at least one or two skins will enhance the flavor. Fresh turkey parts are also excellent for additional flavor.
Directions
Step 1
In large pot, cover chicken pieces with water. Add remaining ingredients. Bring to a boil then lower heat to a simmer and cook for 1.5 hours.
Step 2
Depending on how much skin you used, there maybe a layer of fat. Skim the fat off of the soup. There are several ways to do this. See the notes for links.
Step 3
Serve over home made noodles or cooked egg noodles.