This is a fun dish to make, especially when the weather makes grilling chicken teriyaki not quite possible.  Combining chicken teriyaki and stir fry, you get the best of both.
Chicken Teriyaki Stir-Fry
Print recipe
| | |
| --- | --- |
| Serves | 4-6 |
| Prep time | 10 minutes |
| Cook time | 10 minutes |
| Total time | 20 minutes |
| By author | Dish Ditty |
Ingredients
1lb Marinated Chicken Teriyaki (raw)
2 tablespoons Cornstarch
4 tablespoons Vegetable Oil (divided)
1 cup Onion (sliced)
1/2 cup Mixed Bell Peppers (sliced)
1 cup Broccoli (cut up)
1/4 cup Light Soy Sauce
Note
Recipe for Marinated Chicken Teriyaki
Directions
Step 1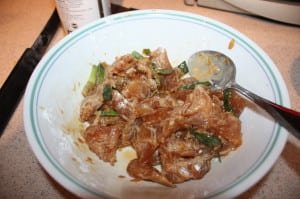 Drain the marinade from the Chicken Teriyaki and cut chicken into bite size chunks (it's ok to have some garlic and onions left behind). Mix the chicken cubes with cornstarch and set aside.
Step 2
In large pan, heat 2 tablespoons of oil on medium high heat. Add onion and mixed bell peppers and cook until soft, about 2 minutes. Add the Broccoli and cook for another minute, or until broccoli becomes bright green. It will not be fully cooked yet.
Step 3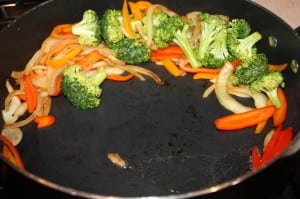 Push aside the vegetables leaving a round open section in the middle of the pan.
Step 4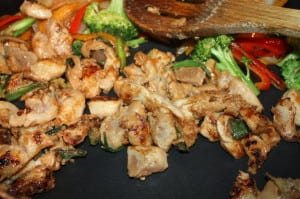 Add the remaining 2 tablespoons of oil to the open section of the pan and heat for about 10-20 seconds to get hot. Add the chicken to the oil and cook on high, stirring the chicken constantly. Keep the vegetables off to the side, some may stir in, but try to mostly just cook the chicken.

Note: The chicken may not be fully cooked at this time, that's ok. You'll be finishing the cooking in the next step.
Step 5
Once the chicken is browned, mix the vegetables and the chicken together. Cook for 30-60 seconds or until you are certain the chicken is fully cooked.
Step 6
Add the soy sauce to the chicken vegetable mixture and stir to coat. Cook for another 30 seconds to combine well. Remove from heat and serve.