Pork with five-spice seasonings and silken tofu is saucy, savory, and will melt in your mouth.  This can be modified by adding napa cabbage and/or bok choy.  Serve over white rice for a simple and hearty Chinese home cooked meal.
Chinese Pork with Silky Tofu
Print recipe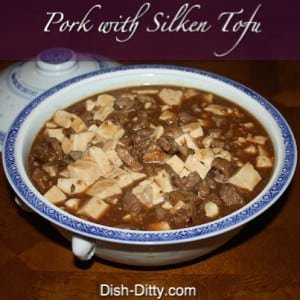 | | |
| --- | --- |
| Serves | 6 |
| Prep time | 15 minutes |
| Cook time | 15 minutes |
| Total time | 30 minutes |
| By author | Dish Ditty |
Ingredients
1lb Marinated Diced Pork
1 teaspoon Sugar
1/2 teaspoon Five Spice
2 tablespoons Cornstarch
2 tablespoons Olive Oil (Garlic if available)
1 cup Chicken or Beef Broth
1/4 cup Soy Sauce
1/4 cup Oyster Sauce
24oz Firm Silken Tofu (diced)
Note
Directions
Step 1
Mix together marinated diced pork, sugar, five spice and cornstarch. Set aside.
Step 2
In a separate bowl, combine hot water and beef bouillon and stir until bouillon is dissolved. Add soy sauce and oyster sauce. Stir and set aside.
Step 3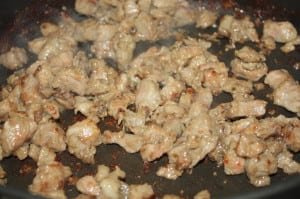 In large wok or pan, heat on high and add olive oil. Add pork and fry for about 1-2 minutes or until pork is browned.
Step 4
Add the water mixture to pork and cook until bubbly.
Step 5
Add the diced tofu and stir gently. Cook for a minute or so until the tofu is heated through and the pork is fully cooked. Serve hot over white rice.
Step 6
Picture of silken tofu...
Step 7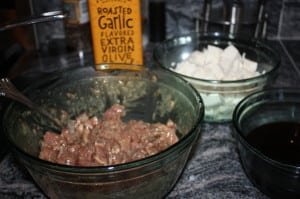 Picture of all ingredients...