My mother was a genius in and out of the kitchen. This is one of those recipes that she adapted to suit my dad's taste buds… and it's a winner. Cherri's Shrimp Dip Recipe was one of my mom's go to recipes for her many dinner parties.
Shrimp Dip
Print recipe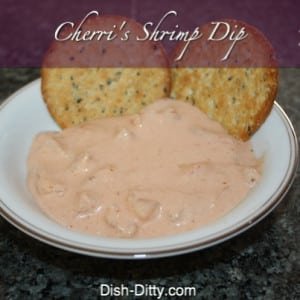 Ingredients
12oz Cream Cheese (softened & whipped)
1/2 cup Mayonnaise
2 Lemons (juice only)
1 tablespoon Tabasco (or to taste)
1/2 Onion (grated)
1/2-2 cup Heinz's Chili Sauce
2 tablespoons Worchestershire Sauce
1/4 cup Sour Cream (light is ok)
Salt & Pepper (to taste)
2-4 tablespoons Horseradish (Optional)
2lb Shrimp (cooked, chopped)
Note
This dip is a little loose, but it is tasty.  I put 1/2-2 cups of Heinz sauce since when I tasted the original recipe (1/2 cup), it didn't have the flavor I remembered.  Adding the entire jar of chili sauce gave the expected flavor.  The original recipe did not call for horseradish, but we added it and it was even better.
I plan on modifying this recipe in the following way:  Halve all the ingredients except the shrimp and chili sauce.  Use 1 cup of Chilli Sauce and keep the shrimp at 2 pounds but use the baby shrimp so there's no chopping. If you try this recipe modification, let me know your thoughts.
Directions
Step 1
Chop shrimp up into bite size pieces. Blend all remaining ingredients (not the shrimp) together in a food processor or blender. Add the shrimp. Refrigerate for about 1 hour. Serve with your favorite crackers like Ritz or Rye Crisp.
---
I believe she got the idea from the typical shrimp dip that was served in the 60's which was a basically layer of cream cheese, some Hienz Chili Sauce, and shrimp.
My dad, however, cannot stand the taste or consistency of cream cheese, but liked the flavors of the classic shrimp dip.  So, my mom came up with this variation which smooths out the cream cheese perfectly so there are no lumps that will make my dad go 'eeew'.
So, here's another one of my mom's brilliantly modified recipes.  You will see my notes as to how I'd like to improve upon it. Either way you make it, it's a winner.