My grandma was amazing and emblazoned Maryland cooking day in and day out. My grandmother passed on several amazing recipes to my mom when she and my dad married. This is one of those recipes.


Maryland Style Lump Crab Cakes
Print recipe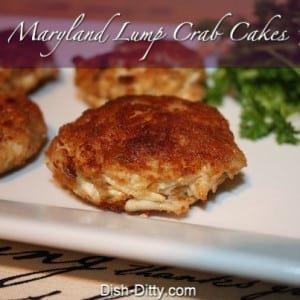 | | |
| --- | --- |
| Serves | 4-24 |
| Prep time | 20 minutes |
| Cook time | 10 minutes |
| Total time | 30 minutes |
| By author | Dish Ditty |
There is nothing better than Maryland Blue Crab Cakes and this recipe is the best of the best. From Baltimore, my Grandma learned how to make the perfect crab cakes and now the secret is out!
Ingredients
3 tablespoons Mayonnaise
1 Egg
1 1/2 teaspoon Dry Mustard
1 teaspoon Old Bay Seafood Seasoning
1/4-1 teaspoon Cayenne Pepper (to taste)
1 tablespoon Fresh Parsley (chopped)
1lb Lump Blue Crab* (drained)
2 Slices White Bread (crust removed, broken up)
1 cup Plain Breadcrumbs
1/4-1/2 cup Oil (Vegetable or Olive Oil for frying)
Salt & Pepper (to taste (I usually don't find the need for salt or pepper))
Note
There is some amazing canned blue crab available around the country. I purchase Chicken of the Sea Lump or Back Fin crab meat from Costco. Sometimes you can find Phillips Blue Crab. You also need to test the crab because no matter how high the quality, it takes just one bad crab bite to cause the whole can to go bad. I rarely have a bad can but it's worth the 2-second test. You can use Dungeness crab as well but blue crab works much better for crab cakes.
To make a lighter version, replace the regular mayonnaise with light mayonnaise and 1/2 cup of Egg Beaters for the whole eggs. Instead of frying in oil, spray with Pam and cook on a Pam coated cookie sheet, baking at 350 degrees until golden brown.
Directions
Step 1
If bread is used, cut off the crusts and break into small pieces. If crackers are used, crumble them by hand.

Step 2
Thoroughly mix the bread, mustard, mayonnaise, parsley, red pepper, and egg in a bowl. Add the Old Bay seasoning if the crabmeat is not home steamed or is canned. Gently fold in the crabmeat and form into patties. Coat each crab cake with breadcrumbs.


Step 3
Place the coated crab cakes on wax paper. Cover and refrigerate for at least one hour before cooking. This step is important! If you don't refrigerate, the breadcrumbs will come off when you fry the crab cakes and cause little burned bits if you do multiple batches of frying. Also, the crab cakes will not stick together as well and will fall apart when frying.

Step 4
Fry in light olive oil until golden brown on both sides.
---
This is a traditional Maryland Style crab cake.  What's the difference between 'Maryland Crab Cake' and 'Maryland Style Crab Cake'? Nothing except where the crab comes from.  Most of the canned crab on the market does NOT come from Maryland, but instead come from the Philippines, Thailand or other waters outside of the Chesapeake Bay. So, since I'm not sure where you are getting your crab, this is a 'Maryland Style' crab cake.
I've given some notes as well on how to make a lower fat version of this recipe.  But, if you want to impress, use the full fat version and your family and friends will be in pure blue crab heaven.
You can make 6-8 large crab cakes, 12-16 small crab cakes or 24-30 crab balls with one pound of crab cakes.  The recipe is the same, except you may need more bread crumbs to cover the crab balls.
Enjoy!