Serve this Spicy Cocktail Sauce Recipe with steamed shrimp, crab, polish sausage, and more. It's so easy and is so much better than the store bought sauce. It's also better than  cocktail sauces you'll find at most restaurants.
Spicy Cocktail Sauce
Print recipe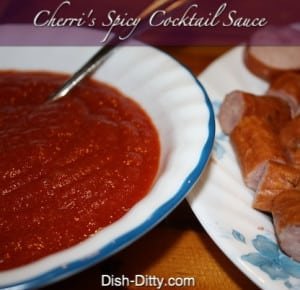 Ingredients
1 jar 15oz Heinz Chili Sauce ((NOT the cocktail sauce))
1 teaspoon Lemon Juice
1 teaspoon Sugar
2-5 tablespoons Horseradish (either homemade or 'extra-hot' from the store)
---
This recipe also comes from my mom, Cherri. One of the things she made for potlucks was cooked and sliced polish sausage with this cocktail sauce. Always a favorite at a party or potluck, this cocktail sauce is so easy you'll never want to buy it from a store again.
Enjoy!