This is a password protected recipe, so ask me for the password if you are friends of ours. Sorry to those of you who want the recipe, but Marsha doesn't want to share with the world.
Marsha's Vietnamese Grass Jello Drink
Print recipe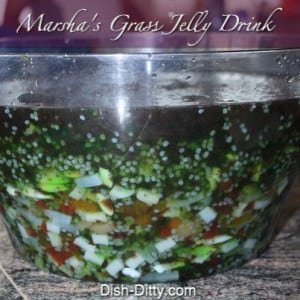 | | |
| --- | --- |
| Serves | 12 |
| Prep time | 1 hour |
| By author | Marsha Vu |
Ingredients
2 tablespoons Chia Seeds
Warm Water (to soak seeds)
3-4 cans Green Ai-Yu Jelly
5 cans Young Coconut Juice with Pulp (Frozen is best, thawed)
1 Container Jelly Topping Composite
Longan Fruit (fresh or canned)
Note
Marsha didn't have enough of the green grass jelly, so she used one can of black jelly.  That's why it looks darker than usual.  Both are good, but using all green will produce a more colorful drink.
Directions
Step 1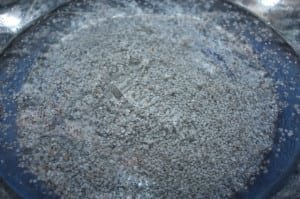 Soak 2 tablespoons of Chia seed in warm water for ~2 hours. They will puff and no longer look like black seeds.
Step 2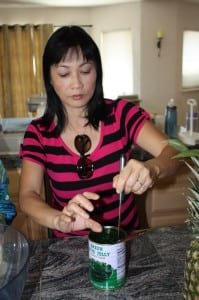 Open 3 cans of Green Jelly and chop into small pieces. Marsha uses a knife and just cuts it up in the can. This was not as easy as it looks and I made a total mess. Marsha has it down!
Step 3
Open the Young Cocount and separate the juice from the pulp. Save the juice and cut up the pulp into small pieces.
Step 4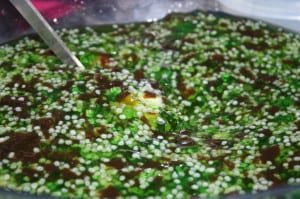 After everything is prepared, mix everything in a container. Add some sugar to your taste (it may not need it).
Step 5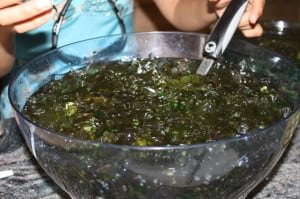 1/2 hour before serving, add ice and voila. Vietnamese Grass Jelly Drink for your party!
---
At our swim team reunion, Marsha was kind enough to bring the ingredients and show us how to make her famous Vietnamese Grass Jelly Drink. My husband loves this, so I had asked her for the recipe earlier in the year.
When I got the ingredients, I just had no idea what they were. 🙂 So, having her bring the ingredients was great. I've put together a slideshow which shows the ingredients and Marsha making the drink.
So, here it is…  Time for another reunion?
Slideshow