The chia seed craze continues with this yummy Cherry Chia Jam Recipe. Just a few ingredients, a couple of minutes, and your jam will be cooling for you to use on your toast, puddings, ice cream and yogurts.


Cherry Chia Jam
Print recipe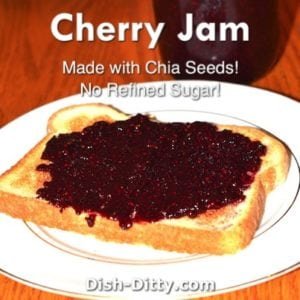 Ingredients
4 cups frozen dark sweet cherries
1/2 cup water
1/3 cup honey
1 tablespoon lemon juice
1/2 teaspoon vanilla
2 tablespoons corn starch (mixed with 2 Tbl water)
1/3 cup chia seeds
Directions
Step 1
In a medium sauce pan, bring cherries, water, lemon juice, honey and vanilla to a boil. Reduce heat and boil slowly for 3 minutes. Blend to desired smoothness, using either a regular or immersion blender.
Step 2
Add the chia seeds and continue the slow boil for another 2 minutes.
Step 3
In a small bowl, mix the cornstarch with 2 tablespoons of water. Slowly add to the mixture, stirring while adding. Cook, stirring constantly, for one minute. Remove from heat and let cool. Refrigerate.
---
I know. I know. I'm obsessed. Everything Chia Seeds! So sorry, but this one is great for anyone who likes jam, wants to make their own, but really doesn't want to make a huge massive amount of jam just for themselves.
This is really easy to make, and with only 4 ingredients, you should be able to make this without delay.
I use this in my plain yogurt to give it flavor, as a topping for my overnight oats, and as a topping for my plain chia pudding. It would work great as a filling for cakes as well.
Feeling adventurous today? Enjoy!