My brother Jim and his wife decided to experiment with the Original Toll House Cookie recipe and came up with this chewy chocolatey cookie. So yummy.

Cherry Chocolate Cookies
Print recipe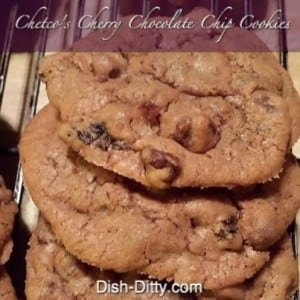 Ingredients
2 1/4 cups All-Purpose Flour
1 teaspoon Baking Soda
2 tablespoons Unsweetened Cocoa Powder
1 teaspoon Salt
1 cup Butter
3/4 cups Granulated Sugar
3/4 cups Brown Sugar (packed)
1 teaspoon Vanilla Extract
2 tablespoons Mayonnaise
2 Large Eggs
2 cups Semi-Sweet Chocolate Chips
2 cups Dried Cherries
1 cup Nuts (chopped)
Directions
Preheat
Step 1
Preheat oven to 375 degrees F.
Combine
Step 2
Combine flour, baking soda, cocoa powder and salt in small bowl.
Step 3
Beat butter, granulated sugar, brown sugar and vanilla extract in large mixer bowl until creamy.
Step 4
Add eggs, one at a time, beating well after each addition.
Step 5
Gradually beat in flour mixture.
Step 6
Mix in mayonnaise.
Step 7
Stir in chocolate chips, cherries and nuts (optional).
Bake
Step 8
Drop by rounded tablespoon onto ungreased baking sheets.
Step 9
Bake for 12-15 minutes, or until golden brown. I found that the enhanced chocolate color makes it difficult to see them brown, so what you look for is the "sweat" at the top of the cookie to go away before pulling them out.
Step 10
Cool in pan on wire rack. Makes 4 dozen bars.