This is a great starter Chia Seed Pudding Recipe for anyone who wants to get a healthy dessert alternative. Packed with fiber and protein, this is likely to become your favorite healthy dessert alternative recipe.
Chia Seed Pudding
Print recipe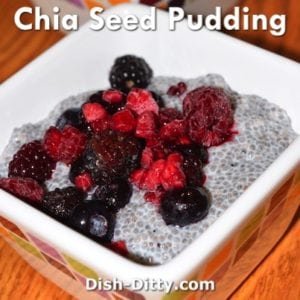 Ingredients
1 cup unsweetened almond coconut milk (or any milk of your choice)
1/3 cup chia seeds
2 tablespoons honey
1/2 teaspoon vanilla (optional)
Directions
Step 1
Combine the honey with the milk and make sure it is mixed in completely. You can warm up the honey to make this easier or you can blend it together. Or, just use a whisk like I did.
Step 2
Add the vanilla and chia seeds and stir well to combine. Cover and set aside for 10 minutes to let the chia seeds to start to soften.
Step 3
Stir again and be sure to get all the chia seeds from the bottom mixed in. Refrigerate for at least 6 hours.
Step 4
Serve topped with fresh berries.
---
I've been searching for a good basic Chia Seed Pudding Recipe and really didn't find what I was looking for. So, as usual, I tried a couple recipes, failed a couple times, and then found one recipe that gave the secret… letting the chia seeds set then stir to redistribute! Brilliant! That was the trick I was looking for.
So, here's a basic recipe that I will likely start to adapt for other flavors. The hardest part is really the color, it isn't appealing. I'm not sure how to overcome that, but I'll be trying in the upcoming weeks.
Enjoy!