No need to buy granola bars… make your own at home. These Honey Granola Bars Recipe has just a few ingredients and are all natural, high in fiber and are low in sugar.
Honey Granola Bars
Print recipe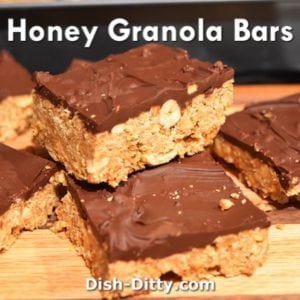 Ingredients
3 cups old-fashioned oats
1 cup honey
1 1/2 cup crunchy peanut butter
1 cup ground flax seed
1 cup roasted peanuts
1 1/2 cup semi-sweet chocolate chips (optional)
Directions
Step 1
Toast oats at 425 for 8-12 minutes, stirring occasionally to keep from burning. Remove when oats are a golden brown. Reduce heat to 350 degrees.
Step 2
Heat honey and peanut butter either on the stove or in the microwave just enough so that the two can combine and become smooth.
Step 3
Add the oats and remaining ingredients to the honey/peanut butter mixture. Combine well. Press down in a 9x13 pan lined with parchment paper. Bake at 350 degrees for 25-30 minutes.
Step 4
Remove from oven, turn off oven, and spread the chocolate chips on the top of the bars. Place in cooling oven for a minute or two to melt the chocolate chips if needed. Spread chocolate evenly using a spatula. Cool completely before cutting.
---
I'm always looking for healthy treats. This is one that I made for a hike I was going on with a couple of friends. I made some with the chocolate and some without.
The ones without were perfect for the hike. A nice power protein treat which was exactly what I needed after the climb up Mission Peak in Fremont. Here we are at the peak… I don't know if I would have made it without these granola bars!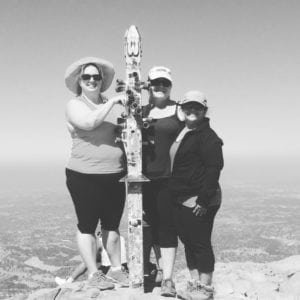 Well, that's all I have to say so Enjoy!