A great weeknight meal, this Chicken & Asparagus Stir Fry Recipe will become your go to dinner choice.

Stir Fry is my go to weeknight dinner because it is so easy. Cut up the veggies and meat, marinade the meat and then set it aside until you are ready for dinner. With less than 10 minutes, the stir fry will be ready and on your table.
Chicken Asparagus Stir-Fry
Print recipe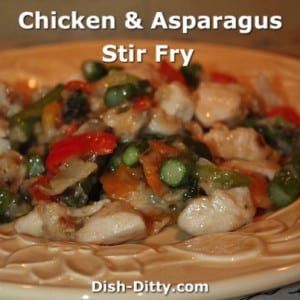 Ingredients
1/2 cup Dry White Wine (like Chardonnay)
1 tablespoon Seasoned Rice Wine Vinegar
1/2 teaspoon Garlic Salt
1 teaspoon Garlic Powder
1/8 teaspoon White Pepper
2 tablespoons Cornstarch
1 tablespoon Sugar
1lb Chicken Tenders (Cut up)
1 bunch Asparagus (cleaned and cut into 1)
3 Green Onions (cut into 1)
1 cup Mixed Peppers (cut up)
4 tablespoons Vegetable Oil (divided)
Directions
Step 1
Mix together the wine, vinegar, garlic salt, garlic powder, white pepper, sugar and cornstarch. Add the cut up chicken, cover, and refrigerate until ready to cook.
Step 2
Cut up all the vegetables into even pieces.
Step 3
In a large wok or pan, heat 2 tablespoons of oil on high heat. Add the vegetables and two dashes of garlic salt. Cook on high, stirring constantly, for about 2 minutes, or until the asparagus is cooked to your liking. I prefer it to be 'al dente' where the outside is cooked soft but still has a bit of a crunch. This is also when the asparagus is at its brightest color. Remove the vegetables when cooked (I put it back into the bowl I used when I cut up the vegetables).
Step 4
In the same pan, add the remaining vegetable oil and heat on high. Strain the chicken (reserving the liquid) and add the strained chicken to the hot oil. Cook on high, stirring constantly, until chicken is fully cooked. This should take no more than 2-3 minutes. Add back in the cooked vegetables and the reserved liquid and cook, stirring constantly, for another 2-3 minutes to make sure the sauce is fully cooked. Remove from heat and serve with rice.
---