Trying to add more super foods into your diet? These quesadillas are amazing and you'll love the kale mixed with beef in this Beef & Kale Quesadilla Recipe.

Kale Quesadillas
Print recipe
Trying to get your daily allotment of greens? Try these quesadillas and you will be pleased and healthy at the same time.
Ingredients
Flour Tortilla
Pam Cooking Spray
Mexican Shredded Cheese
Beef & Kale (Recipe below)
Note
If you don't like crunchy quesadillas, turn the heat to a medium to medium low and cook just until the cheese is melted.
Directions
Step 1
Heat a large skillet on medium-high. Spray with Pam cooking spray and add the tortilla. Layer the whole tortilla with the shredded cheese. You want to have an even layer but not too thick. I usually use about 1/4 cup of cheese per tortilla. Next, add the beef & kale mixture onto half of the quesadilla as shown in the picture.
Step 2
Once the cheese starts to melt, flip the half of the tortilla that has cheese only onto the beef/kale side. Press lightly with your spatula. Cook until browned, flip, and continue to cook until the second side is browned. Remove from the pan, cut, and serve quickly. The sooner you serve it, the crunchier it will be.
---
Taco Beef & Kale
Print recipe
Ingredients
1.5lb Ground Beef (93% Lean)
1 tablespoon Coconut Oil
3 tablespoons Taco Seasoning Mix
1 cup Water
5oz Kale (1/2 of a 10oz bag pre-cut/washed)
Directions
Step 1
Brown the ground beef. Add coconut oil and taco seasoning, mix and continue cooking. Once the seasoning is incorporated, add the water and kale. Cook for another 1-2 minutes, stirring constantly to begin cooking the kale and to combine with the meat. Cover, reduce heat, and cook on simmer for about 10 minutes. Serve as you would any other taco meat.
---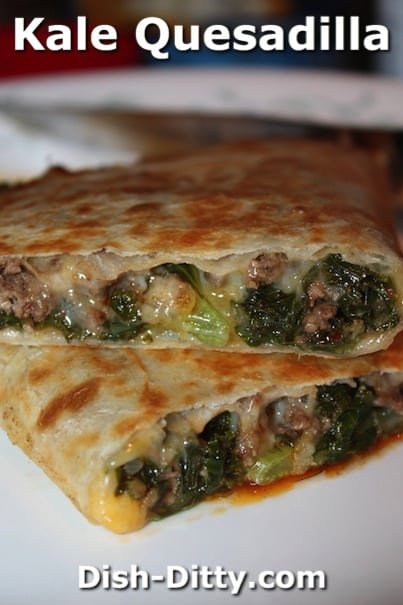 ---