I am a huge fan of one pot meals and this is a great one.  Perfect for those days when you don't want to fuss, but have a little time to let things cook on their own.


Chicken & Gravy Noodle Dinner
Print recipe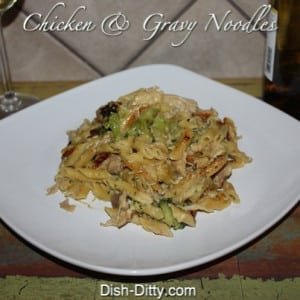 | | |
| --- | --- |
| Serves | 6 |
| Prep time | 10 minutes |
| Cook time | 1 hour, 20 minutes |
| Total time | 1 hour, 30 minutes |
Ingredients
2 tablespoons Chicken Better than Bouillon Base
1 can Cream of Chicken Soup
1/2 can Milk (use soup can)
1 can Water (use soup can)
1 teaspoon Poultry Seasoning
2lb Chicken (diced)
2-4 cups Vegetables (I chose broccoli)
3/4lb Mini Penne Pasta
Directions
Step 1
In a large pot, mix together chicken bouillon, soup, milk, water and poultry seasoning. Bring to a boil, stirring constantly to combine well.
Step 2
Add the chicken and bring mixture back to a boil. Reduce heat, cover and simmer for 1 hour. At this point, you can serve it as it is, pour over rice, over noodles, over potatoes. Very versatile. Or, continue on for a one-pot meal.
Step 3
Add the vegetables and pasta and bring mixture back up to a low boil. Cover and cook on low for about 15 minutes, stirring occasionally. Remove from heat, stir once, cover and let it set for about 5-10 minutes. Serve hot.
---
I got the idea for this recipe while browsing Pinterest.  I am so sorry, but I don't know the link.  That recipe was a crockpot recipe that used chicken, chicken gravy packet, soup, and some other ingredients.  Well, I didn't want a crockpot meal (I don't usually do much crockpot cooking), but the flavors sounded good.
So, I came up with this and it was a hit.  I will definitely be making this again and I'm glad I took the time to write it down. Because, likely, I would forget what I did.
So, here you go. You can make it as a one-pot meal like I did, or just use the chicken and gravy and pour it over mashed potatoes, rice, or noodles.