Need to have a completely dairy-free vegan frosting?  This is the one to use.  Simple and tastes just like buttercream frosting, no one will know.  I served cupcakes for a party with this vegan frosting, and no one knew or cared that the frosting wasn't made from real butter.
Vegan Almost-Buttercream Frosting
Print recipe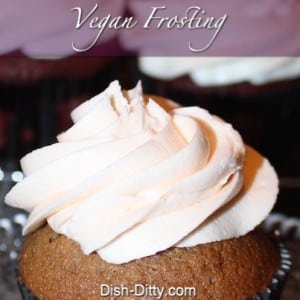 Ingredients
1/2 cup Butter Flavored Crisco
1/2 cup Vegan Butter Substitute
1lb Powdered Sugar
1/4 cup Water
2 teaspoons Vanilla
Directions
Step 1
Beat butter and shortening until fluffy. Add vanilla and 1/8 cup of water. Beat until well combined. Using slower speed on mixture, slowly add powdered sugar. Increase speed to high and beat at high for about 5 to 10 minutes or until light and fluffy. Add more water to thin and more powdered sugar to thicken.

I find that using the full 1/4 cup is the perfect balance for icing cakes, but I tend to add more powdered sugar to make it slightly thicker for decorating.