This is a go to recipe for leftover chicken. This simple Chicken Salad Recipe gets it's unique flavor from the Old Bay Seasoning.


Chicken Salad
Print recipe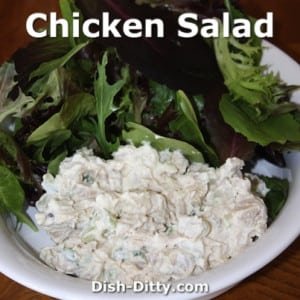 Ingredients
2 cups Cooked Chicken (diced)
3/4 cups Mayonnaise (or more to taste)
1/2 teaspoon Old Bay Seasoning (or more to taste)
1 stalk Celery (diced small)
2 Green Onions (diced small)
Directions
Step 1
In a medium bowl, combine the old bay and mayonnaise. Stir in the cooked chicken, celery, and green onions. Refrigerate for 1 hour before serving. Great in a sandwich, on a green salad, or even added to pasta for a delicious pasta salad.
---
I made this as a 'oh what the heck, I have all the ingredients' dish for a party, and some of my friends were asking if I was going to put it on this site. Seriously? It's so simple, but hey, sometimes simple is what it's all about.
Try it out and let me know what you think. Enjoy!
---