This is a refreshing summer salad that is perfect for an outdoor BBQ or picnic. Ann's Cucumber Salad Recipe takes just a few minutes to prepare and does not have any dairy that will go bad if left out.


Ann's Cucumber Salad
Print recipe
Ingredients
2 teaspoons Kirkland No Salt Seasoning
1 teaspoon Ground Cumin
2 teaspoons Fennel Seeds
2/3 cups White Vinegar (or more, to taste)
1 teaspoon Paprika
1/3 cup Water
1 tablespoon Sugar (to taste)
1 1/2 teaspoon Fish Sauce
1/2 Large Yellow Onion (diced)
1 1/2 Long Seedless English Cucumbers (washed and sliced thick)
1 Large Tomato (diced)
Directions
Step 1
Combine the seasonings, vinegar, water and fish sauce and mix until seasonings are incorporated into the liquid. Toss the vegetables with the mixture and taste it. Add more vinegar and/or sugar as needed. Refrigerate for about 1 hour before serving.
---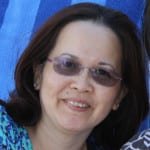 This is the second to last recipe from the party I had with our old swim team friends back in July. This group of friends are amazing, and boy is it a foodie group! Ann made many things that day, and this is one of the stand out recipes she made. I have to admit, I'm a cucumber addict. I love cucumbers and the blend of seasonings and vinegar in this was perfect.
Thanks Ann! I love this recipe. I hope you will too… Enjoy!
---