Chinese in influence, these Garlic Mixed Vegetables are versatile enough to go with almost any main dish.  I like to use them with Chicken Teriyaki, Roasted Pork Loin, Steak, etc. Perfect as a quick side dish on those busy weeknights.  Or, make a larger batch and serve them at a pot luck.
Garlic Mixed Vegetables
Print recipe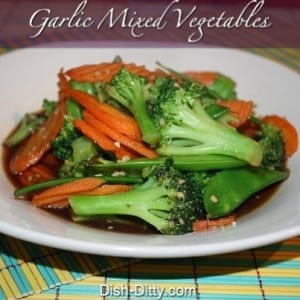 Ingredients
1 tablespoon Olive Oil (Garlic if you have it)
3 cups Mixed Vegetables (Broccoli, Carrots, Snow Peas fresh mixture from Grocery store)
1/4 cup Chicken Broth (or water)
1 tablespoon Garlic (minced)
2 tablespoons Light Soy Sauce
1 teaspoon Rice Wine Vinegar
1 teaspoon Sesame Oil (optional)
Directions
Step 1
In a small bowl, combine soy sauce, vinegar and sesame oil. Set aside.
Step 2
In large wok or pan, heat garlic olive oil. Add the mixed vegetables and cook for about 1 minute, stirring constantly. The vegetables should start looking 'bright'.
Step 3
Add the chicken broth and garlic. Cook for a couple minutes until vegetables are almost done. It should only take about 2 minutes.
Step 4
Add the soy sauce mixture and cook for an additional minute. Remove from heat and serve.