Going back to one of my go-to recipes, this Chinese Beef with Bean Thread Noodles Recipe is a great quick weeknight meal. Add more veggies, less meat, or whatever you like.  It's a great base recipe that can be adapted easily for a home-style Chinese dish.
Chinese Beef with Bean Thread Noodles
Print recipe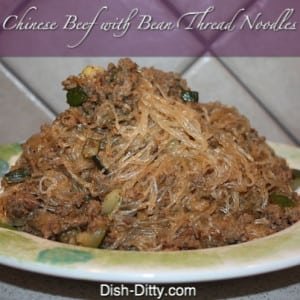 | | |
| --- | --- |
| Serves | 8 |
| Prep time | 5 minutes |
| Cook time | 20 minutes |
| Total time | 25 minutes |
| By author | Dish Ditty |
Ingredients
1 1/2lb Lean Ground Beef
1/2 cup Red Onion (finely diced)
1 1/2 cup Zucchini (diced)
1 tablespoon Garlic Olive Oil
1/4 cup Soy Sauce
1/4 cup Lo Mein Sauce (or substitute Oyster Sauce)
3/4 cups Beef Broth
1 Package of 8 Green Mung Bean Thread Vermicelli (net weight 10.56 oz)
Directions
Step 1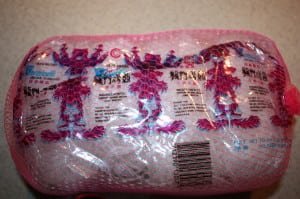 Soak Bean thread in cold water for at least 30 minutes.
Step 2
In a large wok or pan, brown the ground beef and drain all the fat. Add the garlic olive oil, red onions and zucchini and cook on medium high until the onions are softened, about 2-3 minutes.
Step 3
Add the soy sauce, lo mein sauce, and beef broth. Bring to a boil and then reduce heat, cover and simmer for 5-10 minutes.
Step 4
Drain the noodles. Then, increase the temperature back to high, and add the drained noodles to the beef and zucchini mixture. Cook on high and cook, stirring and mixing the beef and sauce in with the noodles. The noodles will take about 5 minutes to fully cook and get mixed in with the beef and vegetables, so be sure to stir and mix continuously. Serve hot as a main dish or as a side dish.