It's like eating a steak and potato dinner in a delicious casserole. My mom made this for our large family and it was always a treat.  Not to mention, it is an inexpensive dinner that can feed a crowd.
Ground Beef Casserole
Print recipe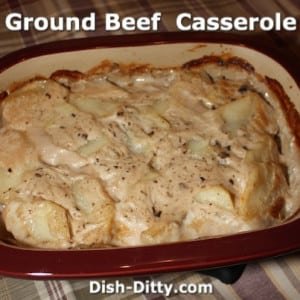 Ingredients
1lb Ground Beef 93% Lean (raw)
1 Yellow Onion (coarsely chopped)
3-5 Russet Potatoes (peeled and sliced)
2 cups Carrots (peeled and sliced (optional))
2 cans Cream of Mushroom Soup
1 cup Water
Directions
Step 1
Preheat oven to 350 degrees.
Step 2
Spray baking dish with PAM and layer 1/2 of the ground beef on the bottom in chunks. Next spread in turn half of the onions, potatoes and carrots. Top this with one can of the Cream of Mushroom soup. Rinse out the can with 1/2 cup of water and add to the casserole. Repeat layering with the remaining ingredients, again adding the extra water from the second can.
Step 3
Bake at 350 degrees for about 1 hour 15 minutes or until vegetables and meat are done. The internal temperature should be over 165 degrees and the middle should be bubbly. (Original recipe said 45 minutes, I found it needed longer)
---
For some reason, I've been craving this delicious casserole that reminds me of winter time as a child (well winter time in California, which is more like fall for other parts of the country).  For some reason, I don't make a lot of casseroles and this isn't something that I've made in a very long time. So, I went to our family recipe book and looked up this recipe since I wasn't certain of the ingredients.
I was surprised to see that the recipe had carrots in it.  I surely don't remember carrots.  When I asked two of my siblings, one said 'no carrots', and the other said 'yes carrots, wait, no carrots, wait yes carrots'.  My dad remembered carrots but then wasn't 100% certain.
So, I asked again on Facebook to my other family members, this was the response:
"Yes, there were carrots – I would know." – Big brother Bruce

"Yes there were carrots, cut small so as to be less noticeable." – Big sister Suz

"OH NOOO, they were noticeable…" – Big brother Bruce
This made me smile.  My brother Bruce is a bit of a finicky eater, to say the least.  He would remember if there was anything in it that was of color.  So, I guess carrots it is!
But, in the recipe I listed below, I put it as optional.  Mostly because I didn't have carrots when I made this so no carrots in the pictured recipe. It worked great, but wasn't a complete meal since no veggies.
My husband thinks adding frozen peas and carrots would be great in it.  I'm thinking maybe some green beans.  But, hey, I think this is a very versatile recipe and can be adapted to whatever vegetable you want.
So, here's this easy, cheap and delicious recipe.  Enjoy!
---