The best pork chops EVER! Seriously, these pork chops are too good and only the truly worthy should be graced with them for dinner. Are you worthy?
Chinese Style Fried Pork Chops
Print recipe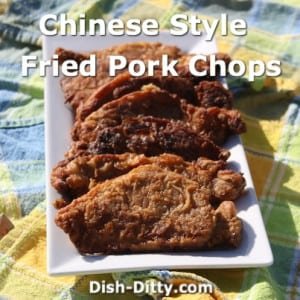 | | |
| --- | --- |
| Serves | 6-8 |
| Prep time | 10 minutes |
| Cook time | 20 minutes |
| Total time | 30 minutes |
| By author | Dish Ditty |
Ingredients
1 cup Light Soy Sauce
1/2 cup Sherry
2 tablespoons Rice Wine Vinegar
2 tablespoons Sugar
1 tablespoon Garlic Powder
6-8 Pork Chops (Bone in or Boneless, not too thick)
1/2-1 1/2 cup Vegetable Oil (as needed)
1-2 cup Flour
Directions
Step 1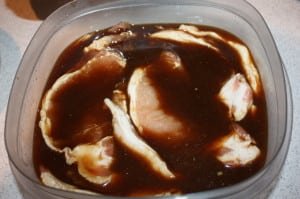 In large bowl, combine soy sauce, sherry, rice wine vinegar, sugar, and garlic powder. Add pork chops. Cover and refrigerate for at least one hour (up to 2 days).
Step 2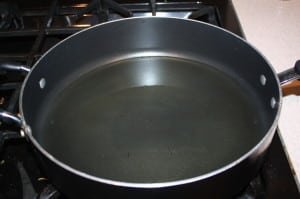 In a large chicken fryer pan, add about 1/4 - 1/2 inch of vegetable oil. Heat on medium high until temperature is between 365 and 375 degrees. Maintain the heat at this temperature.
Step 3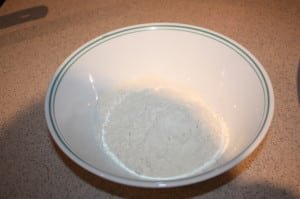 In a large bowl place the flour.
Step 4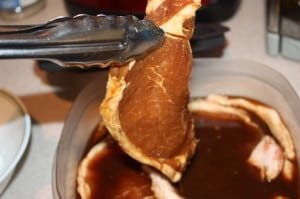 Drip drain the pork chops...
Step 5
... and dredge them in the flour.

** For best results, place on a plate with wax paper between each and refrigerate for 1 hour. I never have time to do this and they turn out nice, but if you take this extra step, the flour will stick to the chops better and you will have less of the flour/batter come off during frying/draining (you can see some of that in the picture since I didn't take my own advice).
Step 6
Add to the hot oil, being sure not to over crowd. Cook the pork chops in batches.
Step 7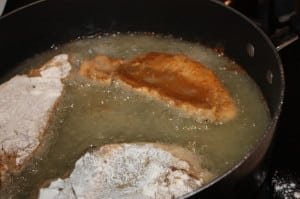 When brown, flip and cook the other side.
Step 8
Rotate if needed and remove from oil when cooked (internal temperature of pork is 145 degrees) and drain on paper towels.
---
I love love love these pork chops. They have so much flavor and since they are marinated and then fried, they stay super moist and don't dry out like other pork chops.
Ok, I know, they aren't the healthiest of recipes I have here on this site, but I never said this was a health food site. If you want to reduce the fat, you can try cooking them in a pan with a cooking spray like Pam, but you'll need to be generous and you won't get the same flavor or texture from the flour coating.
Now that you know this recipe exists, you need to run out and get cooking!
Enjoy
---