In honor of my husband's birthday today, I want to give him pie! I am not making it this year as we are on a low-sugar diet, so he is getting a virtual happy birthday pie. This is his all-time favorite pie. So Happy Birthday Mickey!

Triple Chocolate Cream Pie
Print recipe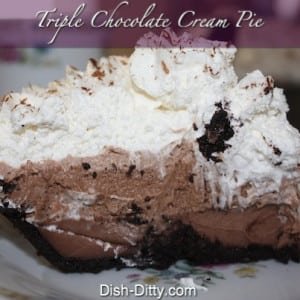 This recipe is to die for. Seriously, this Triple Chocolate Cream Pie Recipe takes time, but is well worth the wait.
Ingredients
1 Decadent Dark Chocolate Mousse
1 Chocolate Pudding
1 Oreo Cookie Crust
1 Stabilized Chocolate Whipped Cream
1 Stabilized Whipped Cream
2oz Chocolate Shavings
Note
**For the recipes, click on the links in green**
Chocolate Pudding*
Chocolate for shaving on top
*Sorry, I don't have this recipe written down yet.  You can just use Jell-O Cooked Chocolate Pudding, but substitute 1/4 of the milk with heavy cream to give a thicker pudding. I will update this post once I get a chance to record it.
Directions
Step 1
This can be a typical 9 inch round pie. Or, for a larger pie, double the recipes and make a rectangular pie in a 9x13 glass pan, or larger. The pictures are mixed between the 9 inch round and 9x13 inch rectangular glass pie.

Either size, layer the pie in this order:

Step 2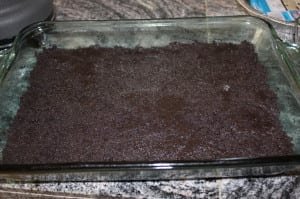 Oreo Cookie Crust
- Refrigerate for 30 minutes to 1 hour before next step
Step 3
Chocolate Pudding
- Let cool on counter for 30 minutes, then refrigerate for 1 hour
Step 4
Decadent Dark Chocolate Mousse
-- Refrigerate while making the Whipped Cream
Step 5
Stabilized Chocolate Whipped Cream
Step 6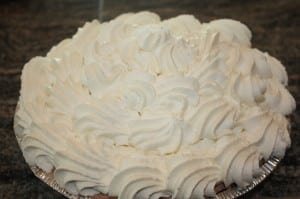 Stabilized Whipped Cream
Step 7
Last but not least, top with shaved chocolate. I just use a Ghiradelli Chocolate bar and a potato peeler.
Step 8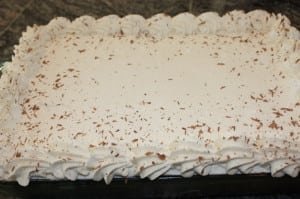 Refrigerate for at least 1 hour before serving. Keep refrigerated until ready to serve. Good for up to 4 days in refrigerator.