This Chinese Tomato & Eggs Recipe is a simple homestyle dish that is made by many Chinese families across the globe. Even though it's an egg dish, it's often served at dinner time with other soups and stir fry dishes.


Chinese Tomato & Eggs
Print recipe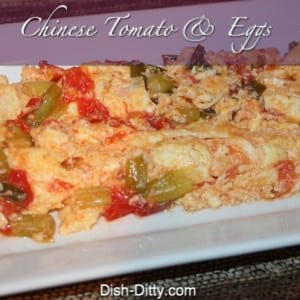 | | |
| --- | --- |
| Serves | 2-4 |
| Prep time | 10 minutes |
| Cook time | 5 minutes |
| Total time | 15 minutes |
| By author | Dish Ditty |
Ingredients
5 Eggs
1 dash Pepper
1/4 teaspoon Salt
2 Green Onions (chopped finely)
1 Tomato (diced)
1 dash Salt
1/2 teaspoon Sugar
1 tablespoon Ketchup
1 tablespoon Water
1 tablespoon Cornstarch (optional)
4 tablespoons Vegetable Oil (divided)
Directions
Step 1
In medium bowl, beat eggs with 1/4 teaspoon salt and dash of pepper. Set aside.
Step 2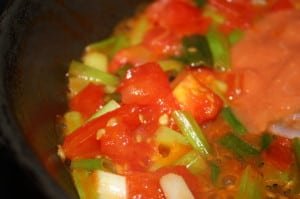 In skillet, heat 2 tablespoons of oil on high. Add tomatoes and green onions and cook until onions and tomatoes are soft. Add the sauce mixture from step 1 above and cook for about 1 minute. Remove from pan and set aside.
Step 3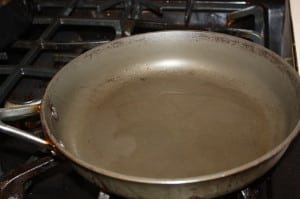 Clean the skillet and add remaining 2 tablespoons of oil. Heat on medium high.
Step 4
Add eggs and cook until eggs are almost cooked. They should still be a little runny, but mostly firm.
Step 5
Add back the tomato mixture and cook for another minute or so or until the eggs are fully cooked and tomato sauce is mixed in. Remove from heat and serve.
---
My mother-in-law makes this whenever tomatoes are in season. And, that's exactly why I made it. I had two separate friends give me tomatoes and I wound up several dozen tomatoes. I wasn't in the mood to make spaghetti sauce (besides, the tomatoes I had weren't the best sauce tomatoes), but I did think of my mother-in-law and decided to make a Chinese dinner night. So, I made this dish and two others which will soon be published: Chinese Chicken with Tomatoes, and Chinese Beef Patties.
So serve this at breakfast, lunch or dinner. Your choice. Enjoy!