THE BEST Gluten Free Cookies EVER! Seriously. These cookies are soft and stay soft even after they cool. Delicious!
Chocolate Chip Coconut Gluten Free Cookies
Print recipe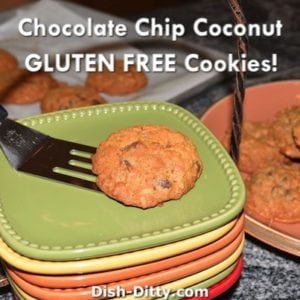 Ingredients
1 cup butter (room temperature)
1 1/2 cup organic coconut sugar
2 large eggs
2 teaspoons vanilla extract
2 cups gluten free flour blend (Bobs Red Mill)
2 teaspoons baking soda
1 teaspoon salt
7oz sweetened shredded coconut (half a bag)
1 1/4 cup semi-sweet chocolate chips
1 cup walnuts (chopped)
Directions
Step 1
Preheat oven to 350 degrees.
Step 2
In a bowl, combine the gluten free flour blend with the baking soda and salt. Set aside.
Step 3
Cream butter and coconut sugar together by beating it until it gets lighter in color and a little fluffy. Coconut sugar takes a little longer to reach this state than brown sugar/sugar blend. But it will come together, give it a couple minutes longer than you would regular sugar.
Step 4
Add the vanilla extract and mix in. Add the flour blend and beat for 1-2 minutes. Mix in the coconut, chocolate chips and nuts.
Step 5
Drop onto cookie sheets lined with parchment paper. Bake for 8-10 minutes or until light golden in color. Remove from the oven and cool.
---
Not only are these Chocolate Chip Coconut Cookies Recipe gluten free, they also use coconut sugar instead of refined sugar. If you want them to not have any refined sugar, use the unsweetened coconut and don't add the chocolate chips.
These even pass the "Mickey" test. I had my husband try them and he couldn't tell they were gluten free or refined-sugar free. A+
They are even so good, I'm posting them right away instead of putting them on my posting schedule.
Now, if they could only sell these in stores, I wouldn't need to make 3 dozen.
Enjoy!