One more recipe from when I was a baker at Draeger's Market in Menlo Park. This Chocolate Water Cake Recipe is moist, fluffy, and pure chocolate heaven.


Chocolate Water Cake
Print recipe
Ingredients
1 cup Cocoa Powder
2 cups Cold Water
2 1/2 cups Flour
1 teaspoon Salt
2 teaspoons Baking Powder
2 teaspoons Baking Soda
8oz Unsalted Butter
3 cups Sugar
4 Eggs
2 teaspoons Vanilla
Directions
Step 1
In a bowl, mix together the cold water and cocoa powder and mix until cocoa powder is dissolved.
Step 2
In another bowl, sift together the flour, baking soda, baking powder and salt. Set aside.
Step 3
In mixer bowl, beat butter and sugar until creamy.
Step 4
Add eggs, one at a time, and beat until creamy. Mix in vanilla.
Step 5
Alternate adding wet (cocoa-water) and dry (flour mixture) until all ingredients are combined. Beat at medium-high to high for an additional 2 minutes.
Step 6
Pour into three 9" pans (greased and floured). Bake at 350 degrees until toothpick comes out clean (about 22 to 33 minutes). Remove from oven and cool completely in pan.
---
Hot Fudge Frosting
Print recipe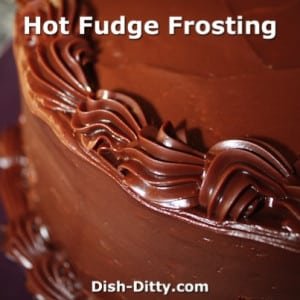 Ingredients
2 cups Heavy Whipping Cream
2 3/4 cups Sugar
6 teaspoons Vanilla
12oz Unsweetened Dark Chocolate (chopped coarsely to help melt faster)
8oz Butter
Note
Make this a day in advance as it takes a while for it to cool and set. Refrigerate cake after frosting and decorating.
Directions
Step 1
In saucepan, combine cream and sugar. Cook over medium heat until it just comes to a boil. Do not boil.
Step 2
Remove from heat. Whisk in chocolate until dissolved. Add vanilla and butter. Mix until butter is dissolved. Let cool before using as a frosting. Serve hot when using as hot fudge.
---
This recipe is one that I've modified and used as a base for a gluten-free, dairy-free cake. Most chocolate cakes use milk, buttermilk, or sour cream, so one that uses water and is this moist is hard to come by.
If you need a bakery style cake, that screams CHOCOLATE, then try this one and you won't be disappointed. Pair it with the Hot Fudge Frosting and you will be in chocolate heaven. Enjoy!
---