With St. Patrick's day just around the corner, you know you are going to want to make this Classic Irish Boiled Corned Beef & Cabbage Recipe. Jammin' Judy returns with this easy classic Irish dinner.


Classic Irish Boiled Corned Beef & Cabbage
Print recipe
Ingredients
Corned Beef Brisket
Water
Potatoes (peeled and diced)
Cabbage (washed and quartered)
Note
To reduce the sodium/salt, first start the same way by covering the corned beef with water and bring to a boil (do not add the seasoning packet). Boil for 10 minutes, then drain the water and cover with new clean water and the seasoning packet (if provided). Boil and continue as instructed cooking the beef for another 3-5 hours.
There are many cuts of corned beef, we prefer to use brisket.
Directions
Step 1
In a large stock pot, add corned beef, seasoning packet (if included separately and not seasoned in the package) and cover with water. Bring to a boil. Reduce heat and cook on a medium simmer for at least 3 hours and up to 5 (depending on how soft you want the meat).
Step 2
Remove the corned beef from the water and cover with tin foil to keep warm. Add the potatoes to the pot, increase the heat and bring to a boil. Boil the potatoes for about 15 minutes, or until they are almost done. You don't want them fully cooked, just about 5 minutes away from being done.
Step 3
Add the cabbage and continue cooking for about 5-10 minutes longer. *This is when I would suggest slicing the corned beef* I prefer my cabbage not as soft, but it's all a preference. Remove the cabbage and potatoes from the water and serve.
---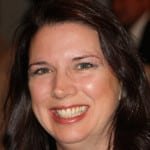 My sister Judy's family cannot get enough of this dinner, so she is the one who makes it for our Sunday dinners. She decided to cook this a little early this year (probably because we will have it more than once). Believe it or not, we cooked 4 corned beef with 5 pounds of potatoes and 1 head of cabbage. With about 14 of us for dinner, we had probably only enough for 2 lunches left over. My family just digs into it.
I already have one corned beef recipe on my site (Slow Roasted Corned Beef & Cabbage), but this is by far the most classic way to cook corned beef. Boiled boiled boiled, but it really does work to tenderize the beef.
The key for this recipe's success it to remove the beef when you go to cook the potatoes. Don't try to cook it all in one pot or you will wind up with a big mushy mess.
Anyways, you can't go wrong with this corned beef recipe. Enjoy!