This is a beautiful dish with the bright green beans and thyme leaves.


Thyme Green Beans
Print recipe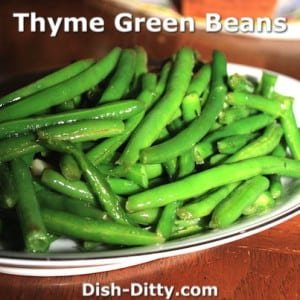 Ingredients
1lb Green beans (trimmed)
2 teaspoons Salt
1/2 bunch Thyme
2 tablespoons Olive Oil
Directions
Step 1
Setup a large bowl with ice water. Set aside
Step 2
In a large stock pot, fill 2/3 with water and add 2 thyme branches and salt. Bring to a boil. Add the green beans and bring the water back to a boil. Cook on a low boil for about 5 minutes, or until the green beans start to soften and are bright green.
Step 3
Remove the green beans from the water and immediately immerse in the ice water to stop the cooking process. Remove from the ice water and drain.
Step 4
In a large pan, heat olive oil. Add the drained and dried green beans, a couple dashes of salt and a handful of thyme leaves that have been plucked off the branches. Cook, stirring constantly, for 2-3 minutes, or until the green beans are to your liking. I prefer mine to stay more on the al dente side and a bit crunchy.
---
If you are having a dinner party, this dish will work out great since you can choose to refrigerate the green beans after the first cooking and do the stir fry portion closer to eating time.
This is one of my favorite ways to make green beans (I have a lot of green bean recipes, obviously one of my favorite vegetables).
Enjoy!
---