My favorite at Olive Garden is getting the unlimited soup and salad. Usually I'm full after one bowl of this hearty soup. This Copycat Olive Garden Chicken Gnocchi Soup recipe is so easy, it can be made in 30 minutes.
---
Copycat Olive Garden Chicken Gnocchi Soup
Print recipe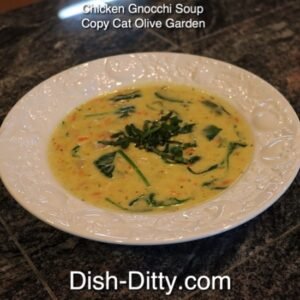 Ingredients
2 tablespoons olive oil
1 cup yellow onion (diced)
1 cup carrots (grated)
4 cups boiling water
3 tablespoons Better than Bouillon Chicken
2 cups baby spinach
2 cups cooked chicken (diced)
1/2 teaspoon salt
1/2 teaspoon ground black pepper
1 teaspoon italian seasoning
24oz gnocchi
3 tablespoons salted butter
3 tablespoons flour
1.5 cups milk
1 cup heavy cream
fresh parsley or basil (for garnish)
Directions
Step 1
In a large stock pot, sauté the yellow onions until onions are soft. Add the grated carrots and sauté for 2-3 minutes. Mix the better than bouillon into the hot boiling water. Whisk until the bouillon is fully dissolved. Add the salt, ground pepper, Italian seasoning, the prepared broth, and the gnocchi. Bring to a boil, reduce heat to a simmer and cook for 10 minutes.
Step 2
While the soup is simmering, make the roux. In a separate pot, on medium heat, add the butter and flour and cook, stirring constantly with a wooden spoon. Once the butter is melted, cook for at least 1 minute. Slowly add the heavy cream and milk, whisking as you add. Once all the milk/cream is added, continue whisking and cooking for at least one minute.
Step 3
After 10 minutes, whisk the milk mixture into the soup. Cook for at least one minute on medium heat to make sure everything combines. Leave to a low simmer or serve immediately. I like to add fresh parsley or fresh basil when serving.
---