This Copycat Olive Garden Chicken Gnocchi Soup recipe is so easy, it can be made in 30 minutes. My favorite at Olive Garden is getting the unlimited soup and salad. Usually when I get this Chicken Gnocchi Soup, I'm full after one bowl since it is so hearty.
---
Copycat Olive Garden Chicken Gnocchi Soup
Print recipe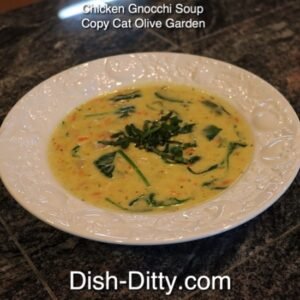 Ingredients
2 tablespoons olive oil
1 cup yellow onion (diced)
1 cup carrots (grated)
4 cups boiling water
3 tablespoons Better than Bouillon Chicken
2 cups baby spinach
2 cups cooked chicken (diced)
1/2 teaspoon salt
1/2 teaspoon ground black pepper
1 teaspoon italian seasoning
24oz gnocchi
3 tablespoons salted butter
3 tablespoons flour
1.5 cups milk
1 cup heavy cream
fresh parsley or basil (for garnish)
Directions
Step 1
In a large stock pot, sauté the yellow onions until onions are soft. Add the grated carrots and sauté for 2-3 minutes. Mix the better than bouillon into the hot boiling water. Whisk until the bouillon is fully dissolved. Add the salt, ground pepper, Italian seasoning, the prepared broth, and the gnocchi. Bring to a boil, reduce heat to a simmer and cook for 10 minutes.
Step 2
While the soup is simmering, make the roux. In a separate pot, on medium heat, add the butter and flour and cook, stirring constantly with a wooden spoon. Once the butter is melted, cook for at least 1 minute. Slowly add the heavy cream and milk, whisking as you add. Once all the milk/cream is added, continue whisking and cooking for at least one minute.
Step 3
After 10 minutes, whisk the milk mixture into the soup. Cook for at least one minute on medium heat to make sure everything combines. Leave to a low simmer or serve immediately. I like to add fresh parsley or fresh basil when serving.
---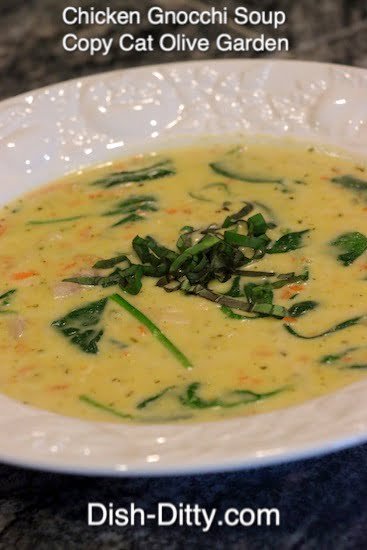 ---
Let's face it, no one wants to scroll forever trying to find the actual recipe. That's why, here at Dish Ditty, we are moving towards having all the recipes right at the top. If we have any blogger like content, where we discuss the 'how did we come up with this recipe', or 'my family loves this', or any of the typical food blogger content, it will be after the actual recipe.
It's addicting
So, in that vain, this soup is so incredibly addicting. I made it for a Christmas party we were hosting in 2022, the first one since Covid. I did a souper party, where I made a bunch of soups. I've done souper parties before since they are super fun and it's easy to get different dietary needs by making different soups.
But back to this recipe, the Chicken Gnocchi Soup. I love this soup at the Olive Garden. I found a copycat recipe from The Slow Roasted Italian (this is a great recipe site that I love). As usual, I didn't follow the recipe exactly, but made some modifications of my own. I'm sure their version is amazing too, but I have my ways.
A few things that I did was to use the Better than Bouillon Chicken to add more depth of flavor. It really adds a stronger punch of chicken flavor. Also, I was cheap and used the Dollar Tree gnocchi! For this soup, I found it worked perfectly, and saved me lots of $$.
Super fast
The best part about this recipe is that if you already have cooked chicken, it really only takes about 30 minutes for dinner to be ready. And it's a whole meal in a bowl.
Enjoy!