Sunday dinners wouldn't be the same without great family and friends. And Corina is one of those that we are lucky to have at our family table. She brought this delicious vegetable dish for one of our Sunday dinners way back in March.
Sorry it took so long to post, but it really was delicious. I definitely want her to make this for us again at our next Sunday dinner.
Enjoy!
Corina's Sun-Dried Tomato Veggie Medley
Print recipe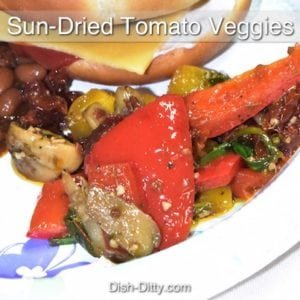 Ingredients
avocado oil
onions (sliced)
red bell peppers
sun-dried tomatoes
mushrooms
spinach
dry italian seasoning
Directions
Step 1
Cook all the vegetables together in a sauté pan until onions are caramelized and spinach is wilted.
---