As seen on Rick and Morty, the infamous Mc Donald's Szechuan Sauce is revealed! My son Justin scoured the web and found this recipe on YouTube. Time to get cooking!
Justin's Szechuan Sauce
Print recipe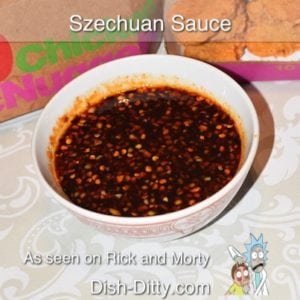 Ingredients
1 tablespoon olive oil
1/3 cup minced garlic
3 tablespoons balsamic vinegar
1/3 cup plum wine
1/4 cup soy sauce
1/3 cup Siracha sauce
2 teaspoons crushed red pepper
1 cup brown sugar
Directions
Step 1
In a sauté pan, sweat the garlic with the olive oil. You don't want the garlic browned, just fragrant and it should start to soften. Add the balsamic vinegar and plum wine and cook on medium for about a minute. Add the remaining ingredients and simmer on low for 5 minutes. Remove from heat and use warm or cool.
---
My son Justin has been obsessing over this recipe, which is funny considering he never eats McDonald's and even if he did, he never had the Chicken McNuggets. But, that show Rick and Morty had him wanting to make the sauce.
He watched lots of videos and found one that seemed to have promise. Here's that video:
So, taking what was done in the second sauce, this is the recipe. It was really delicious, albeit a bit spicy (especially when it rested). Just reduce the crushed red peppers if you don't like it as spicy.
Enjoy!