Ah, the joys of a hearty home cooked meal. And nothing speaks home cookin' like this Country Pork Steaks Recipe. With a classic country gravy, this dish is sure to please.
Country Pork Steaks
Print recipe
Ingredients
pork steaks
Santa Maria Seasoning
olive oil
3 tablespoons butter
1/4 cup flour
3 cups milk
1 teaspoon black pepper
1/4 teaspoon salt
Directions
Step 1
Sprinkle pork steaks with Santa Maria Seasoning.
Step 2
Heat a large pan with light olive oil or other light cooking oil. Brown steaks in batches on both sides.
Step 3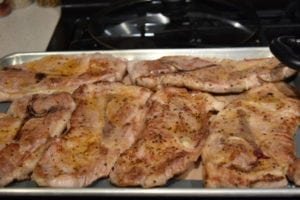 Remove from the pan when brown and place flat on a cookie sheet. Convection roast at 325 degrees for 20 minutes.
Step 4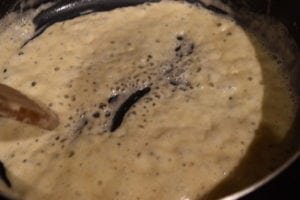 While the pork is cooking, make the sauce using the same pan. Add 3 Tablespoons of butter and 1/4 cup of flour to the pan (do not clean the pan, use with all the drippings). Cook, stirring constantly, for 2 minutes.
Step 5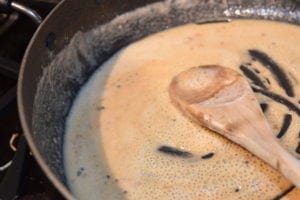 Gradually add the 3 cups of milk, stirring constantly and whisking to make a smooth gravy. Add the black pepper and salt, and cook for 2 minutes. It should be nice and bubbly for at least one minute. Turn off the heat and let set while you wait for the pork to cook.
Step 6
When the pork steaks are done, remove the cookie sheet from the oven, place the pork steaks on a serving platter and drain the pan drippings from the pork into the sauce. Stir and cook for another 30 seconds, stirring to make a nice smooth gravy. Serve the gravy with the pork. Also goes great on mashed potatoes and biscuits.
---
Santa Maria Rub
Print recipe
Ingredients
2 tablespoons coarse salt
2 tablespoons coarse black pepper
3/4 teaspoons garlic powder
3/4 teaspoons dry mustard
3/4 teaspoons cayenne pepper
Directions
Step 1
Combine and use with your favorite bbq or smoked meat.
---
I am sorry I didn't post this sooner Shane! I guess I thought I had posted it, but alas, I had not…
For those who weren't given a to-go meal from me with this dish, just know that apparently it was good enough for me to get asked to post it. It really is easy and is a great weeknight meal.
I got the idea from a Tasty Video.
Enjoy!