If you're looking for the perfect simple beet recipe, this is it. My Dad showed me how to make these beets, and now I'm a fan!
Butter Fried Golden Beets
Print recipe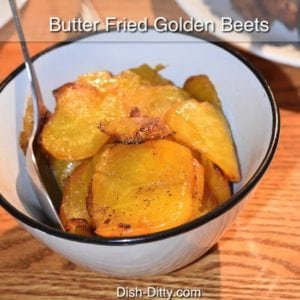 Ingredients
beets (washed not peeled)
2+ tablespoons butter
salt & pepper
Directions
Step 1
In a medium pan, add beets and bring to a boil. Reduce heat to medium, and cook for about 10-15 minutes, or until the beets are fork tender, time depends on the size of your beet.
Step 2
Remove from the water, dry and cool for at least 10 minutes. Peel the beets and then slice into 1/4"-1/2" slices.
Step 3
In a skillet, add butter and beets. Cook on medium-high, stirring frequently, until beets are slightly browned and are done to your liking. Remove from heat and serve
---
Growing up, my mom only made beets the Polish way: Pickled Beets. Let's just say that if your only way of eating beets is with them cooked and soaked in vinegar with hard boiled eggs, that you may not be a fan of beets. I certainly wasn't.
Fast forward way too many years and my Mom passes on and my Dad starts eating dishes the way he likes them. He still likes his pickled beets, but apparently, butter fried beets was the way he was used to eating them. But, I guess my Mom didn't like them that way which is why I never had them.
So, when I got my Imperfect Produce box a couple weeks ago with more beets in them, I decided to enlist my Dad for some help. So, he came over and he instructed me on the butter fried method. I was a little skeptical, however, it helped that the beets were of the golden variety and not a deep purple which would make me expect it to taste like grapes.
Well, when they were done and I tried them, I was pleasantly surprised. They were really really good. I mean really good. I may not have loved them, but I went for seconds.
So, now you know. Beets don't have to be cooked and soaked in vinegar. Butter always makes things better.
Oh, if you want to try a vegetable delivery service that is cheaper than conventional grocery stores, reduces food waste, reduces green house gases by buying local, and is super convenient, try out Imperfect Produce with this link. You'll get $10 off your first box and I'll get $10 off of my next box. I am not paid for this and I'm not an affiliate, I'm just a fan.
Enjoy!