This is another great leftover dish, but can be made even without the leftover Crab Casserole.  Great for when you have guests staying over or coming at breakfast or brunch.
Crab Breakfast Casserole
Print recipe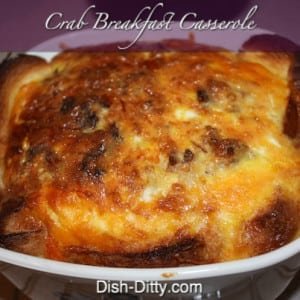 Ingredients
Pam
White Bread Slices
Leftover Crab Casserole (Or, use fresh crab mixed with a little Old Bay)
Shredded Mixed Cheese (cheddar, jack, etc.)
Eggs
Milk
Salt & Pepper
Note
This is a dish that I make the day after we have Crab Casserole.  If you don't have that, just take some crab and sprinkle some Old Bay with it.  There aren't any measurements, since this depends on the casserole size and the amount of crab you have.  The ratio for the Eggs to milk is 6 eggs to 1/2 cup of milk.  So, use that as the base.  The amount of crab and cheese is all depending on how you like it.  I put enough crab to cover the bottom and about 1" high (not packed).
Click here for the Crab Casserole Recipe.
Directions
Step 1
Spray casserole dish with Pam. Layer with bread slices to cover bottom & sides.
Step 2
Add Crab Casserole or crab, broken up, covering the bottom.
Step 3
Sprinkle with cheese.
Step 4
In a bowl, whisk together eggs, milk, salt & pepper. Pour over crab and cheese.
Step 5
Bake in oven for 30+ minutes (depending on size of casserole).
Crab Casserole
Print recipe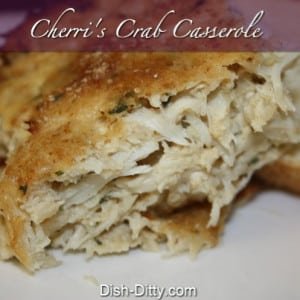 This is another family favorite that we serve every Christmas eve as well as year round. My grandmother on my father's side taught my mom how to make traditional Maryland Style Crab Cakes. For years, my mother made crab cakes and as our family grew, the number of crab cakes she needed to make became overwhelming. So, one day she just decided to try it as a casserole and it was amazing.
Ingredients
.5 cup mayonnaise
3 eggs
.5 cup milk
1.5 tablespoons dry yellow mustard
1 teaspoon cayenne pepper (more or less depending on taste preference)
1 tablespoon dry parsley flakes (or 2 Tbl fresh parsley)
6 white bread slices (crust removed, cut into cubes)
3lb Blue Crab (if canned, 3 lbs of Phillips or Chicken of the Sea)
2 tablespoons bread crumbs (plain)
1.5 teaspoons Old Bay seasoning
optional (Optional)
Note
If you are using crab meat from fresh steamed crabs that were steamed Maryland style with Old Bay, omit the old bay from this recipe or it will become too salty and over spiced.
When using fresh picked crab meat, the moisture level may vary. You may need to add more milk or mayonnaise if the mixture doesn't feel "wet". It should not feel dry Or, if it is very moist, omit the milk.
How to reheat leftovers: When you have leftovers, you want to be careful how you reheat them. You can heat it in the microwave, but my favorite way to reheat leftover crab casserole is to use a ramekin: spray ramekin with Pam, add crab, add 1 Tbl milk and bake at 350 degrees for about 10-15 minutes, or until hot.
Directions
Step 1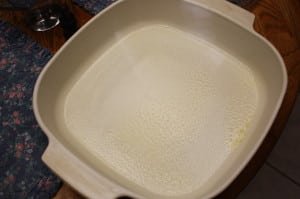 Preheat oven to 375 degrees. Prepare baking dish by spraying with Pam.
Step 2
In a large bowl, using a whisk, whisk the eggs, 1/4 cup milk and mayonnaise together. Add each dry ingredient one at a time, whisking together after each addition: old bay, dry mustard, cayenne pepper, baking powder, and dry parsley (everything except the bread, crab, extra milk and breadcrumbs). At this time, you will have a creamy mixture ready for the next step.
Step 3
Take the bread pieces and mix thoroughly into the mayonnaise mixture by whisking it. The bread will not be recognizable at this point.
Step 4
Next, be very careful and FOLD in the crab. When I say FOLD, I do not mean mash the crab into the sauce. Just lightly fold the crab in with the mayonnaise mixture. You should not think of this as "stirring" or "mixing". Be sure not to over mix. You should not disturb the lumps of crab, JUST FOLD.
Step 5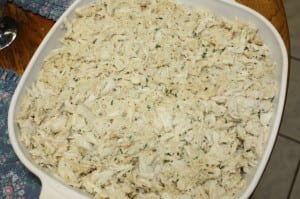 Place crab mixture into baking dish. Pour the extra 1/2 cup milk over the casserole and sprinkle breadcrumbs on the top of the crab.
Step 6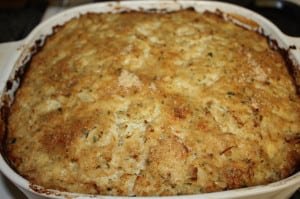 Cover and bake for about 45 minutes. Remove the cover and bake for another 20 - 30 minutes or until the casserole is light brown and the center is no longer liquid and bubbling. For a thicker casserole, increase the cooking time with the lid on.
Step 7
Test to make sure the casserole is done. It should be lightly browned on top but not be bubbly. If it's bubbly that means the liquid has not been cooked thoroughly. Think of it like a cake, it shouldn't be wet.
Step 8
Remove from oven and let it rest for about 5 minutes. Serve with your favorite side dishes like coleslaw. I like to eat it on a roll with chive mayonnaise and sliced tomatoes.