This is a traditional Polish pig feet recipe and I got it from my grandma passed down to my mom. Polish Pig Feet & Sauerkraut is one of my comfort foods.
Polish Pigs Feet & Sauerkraut
Print recipe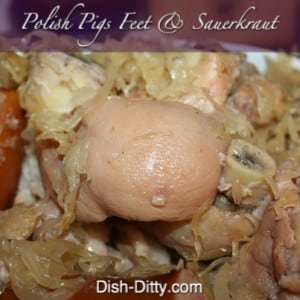 Ingredients
2 jars Polish Sauerkraut (drained, use Libby's if you don't have Polish)
2 bottles Beer (light, amber but not dark, optionally replace with 2-4 cups water)
1 Onion (diced)
2 Bay Leaves
1 tablespoon Brown Sugar
3lb Pigs feet
Note
You can choose to add pork ribs in addition to the pigs feet. The pork ribs do not need to cook as long, maybe about 2-3 hours. So, if you are making both, you can put them in at the same time, but I find add the pigs feet first, cook for a couple hours, then add the pork ribs, cook for another hour, then add the polish sausage. You'll get a something for everyone.
Directions
Step 1
Place all ingredients into a large stock pot. Bring to a boil. Reduce heat, cover and simmer for 4-6 hours. If you want to add polish Sausage, add it an hour before you want to serve it.
I know many people will see this and just get grossed out by the concept of eating pigs feet, and yes, the picture isn't that much better.  But, if you grew up eating pigs feet like I did, it becomes more of a 'yum' than 'gross'.  My mom would make them regularly when my grandfather was alive and it became a Christmas eve tradition.  Now, it isn't Christmas eve without Sauerkraut and hopefully pigs feet.