Only a few simple ingredients will make this creamy, smooth tomato soup recipe. Simple yet with complex flavors, this soup will impress your friends and family.


Cream of Tomato Soup
Print recipe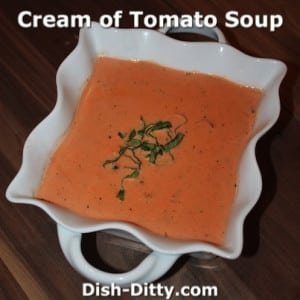 Ingredients
2 cans Crushed Tomatoes (Italian Style, 28 oz cans)
1/2 bunch Fresh Basil (Washed and chopped)
32oz Chicken Broth
1/2 cup Dry Vermouth
1 tablespoon Sugar
1 can Petite Diced Tomatoes (Italian Style, 28 ounces)
1 quart Heavy Whipping Cream
Cracked Black Pepper (to taste (should not need salt))
Basil Leaves (thinly sliced, as garnish)
Directions
Step 1
In a large stockpot, bring the crushed tomatoes, basil, chicken broth, sugar and dry vermouth to a boil. Reduce heat to a low and simmer for 10 minutes. Puree with an immersion blender.
Step 2
Add the diced tomatoes and increase heat to bring it back up to a boil. Reduce heat to a medium and add the heavy cream. Slowly bring the heat back up until it is just about to boil, it should be steamy but not bubbly. Remove from heat and serve with cracked pepper and topped with thinly sliced basil. (There should be no need for salt)
---
I remember this one soup from a cafeteria where I worked many many moons ago. The cafeteria was structured like many company based cafeterias, but this one had one amazing chef. Simple dishes, like pasta, soups, even the quiche, was amazing. I wish I knew where he was cooking now, but the one soup I remember the most was his Cream of Tomato Soup. I think I've captured that soup with this recipe.
Enjoy!
---