Another great recipe for potlucks, brunches or overnight guests. I made this the night before, covered it and baked it on Christmas morning so it was ready to go when we went to my in-laws for Christmas Brunch.


Spinach, Ham & Egg Casserole
Print recipe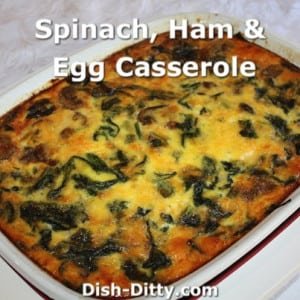 Ingredients
3 cups Ham (finely diced)
8oz Shredded Cheese (any kind, I chose cheddar)
1/2lb Spinach
1/2lb Mushrooms (sliced)
1/2 bunch Green Onions (chopped)
1 tablespoon Butter
14 Eggs
3/4 cups Heavy Whipping Cream
3/4 cups Whole Milk
8oz Shredded Cheese
3-4 dashes Salt & Pepper
Directions
Step 1
In a pan, heat the butter and add the green onions and mushrooms. Cook for a minute and then add the spinach. Cook until spinach is wilted and mushrooms are softened. Add a couple dashes of salt & pepper and remove from heat to let cool. Wait until cool before starting the next steps.
Step 2
Preheat oven to 300 degrees. In a 9"x13" large casserole dish, spray with pam and layer the bottom evenly with the diced ham. Sprinkle with 1/2 the cheese.
Step 3
In a large bowl, beat the eggs with the cream, milk, salt and pepper. Make sure the eggs and milk are well combined and try to make it as light as possible. The egg mixture should be a little lighter than when you started. Pour 1/2 the egg mixture into the pan to cover the ham.
Step 4
Add the spinach mixture evenly on top of the eggs and ham. Top with the remaining cheese and remaining egg mixture.
Step 5
Bake at 300 degrees for 1 to 1.5 hours, or until the eggs are fully cooked. Let rest for 10 minutes before serving.
---
This is a very versatile dish and can be made with any number of ingredients. This time it was with ham, spinach, mushrooms and cheese. Works well with other breakfast meats like crispy cooked bacon or cooked sausage. You can add peppers, zucchini, and other vegetables as well. Whatever your taste buds (or refrigerator) desires.
Enjoy!
---