Creamy Potato & Bacon Soup
Print recipe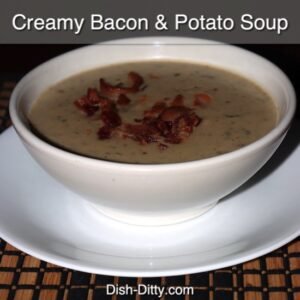 Ingredients
8 thick slices bacon
1 Large yellow onion (diced small)
3 stalks celery (diced small)
3 carrots (diced small)
2.5lb potatoes (diced small)
2+ teaspoons black pepper
3+ teaspoons salt
2 tablespoons dried parsley
1/2 cup butter
1/2 cup flour
3 cups milk
water
Directions
Step 1
In a large stock pot, cook bacon until crispy. Remove bacon and drain on paper towels. Remove all but 2 tbl of the bacon fat from the pan.
Step 2
In the same pan, add the onions and sauté for 2-3 minutes. Then add the celery and carrots. Sauté for a bout 5 minutes. Add the parsley and half the salt & pepper. Add about 1 cup of water and cook for another minute or two. Add the potatoes and enough water to cover. Bring to a boil then reduce heat, cover and simmer for 45 minutes (or until potatoes are done to your liking).
Step 3
In a small saucepan, heat butter and then add the flour. Cook flour for about 2-3 minutes on medium heat, stirring constantly with a wooden spoon. Add 1/2 cup of milk at a time, whisking with each addition. Continue cooking on medium heat until bubbly. Cook for another minute.
Step 4
Whisk in the cream mixture to the soup. Cook for a couple minutes to bring it all together. Remove from heat. Serve topped with crispy crumbled bacon.
When I was gifted a big bag of potatoes, my husband asked for potato bacon soup, similar to Campbell's Chunky Bacon Potato Soup. Well, I am not a big fan of that style soup, but I know how to make an amazing cream soup, and it's all about the layering of flavors. Per my husband, this soup was amazing, "Put it on Dish Ditty!" he said.
Well, it surpassed his need for Campbell's soup, and I guess I recreated one of his favorite soups from a long gone restaurant, Johnny Carino's Italian Restaurants.
If you like this style soup, try this recipe and you won't be disappointed. Enjoy!