Family Style Bean Curd with Pork Recipe is one of my go to weeknight recipes. Quick to prepare, and doesn't need much interaction. It is a more homestyle approach, as opposed to typical stir fry dishes you find in most Chinese Restaurants.
Family Style Bean Curd with Pork
Print recipe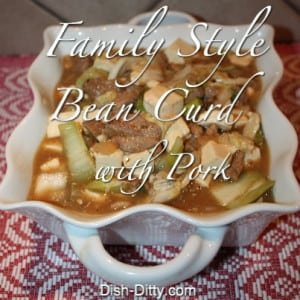 | | |
| --- | --- |
| Serves | 8 |
| Prep time | 10 minutes |
| Cook time | 30 minutes |
| Total time | 40 minutes |
| By author | Dish Ditty |
Ingredients
2 tablespoons Cornstarch
2 cups Marinated Pork (diced)
2 tablespoons Garlic Olive Oil
2 cups Onion (sliced)
4 cups Napa Cabbage (sliced)
2 cups Baby Bok Choy (sliced)
1/4 cup Lo Mein Sauce (panda Brand)
1/2 cup Chicken Broth
1 tablespoon Sugar
Optional
1-2 Package Tofu (Baked or Firm, diced)
Directions
Step 1
Mix the cornstarch with the marinated pork and set aside.
Step 2
Heat the garlic oil and cook onions until just before they start to brown.
Step 3
Add the pork and cook on high until the pork is browned.
Step 4
Add remaining ingredients. Bring to a boil, mixing gently. *At this point, the dish can be served if you prefer to have the vegetables less cooked and the pork not as tender. I prefer to continue cooking.
Step 5
Reduce heat to a simmer and cover. Cook for about 15 minutes. *If you have a claypot, you would put the ingredients in the claypot at this time and bake in the oven for 15 minutes.
---