This is a great way to do grilled chicken for a crowd when someone you know is diabetic, but you still want to have traditional BBQ chicken with BBQ sauce. The marinade for this chicken tastes great on it's own and will enhance the flavor of the BBQ sauce. Also great if you have picky kids who don't 'like' bbq sauce.
Grilled Chicken Two Ways
Print recipe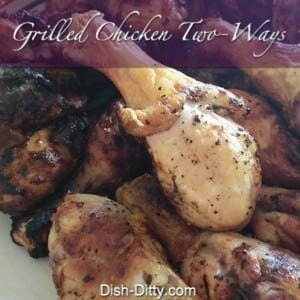 | | |
| --- | --- |
| Serves | 4-6 |
| Prep time | 5 minutes |
| Cook time | 30 minutes |
| Total time | 35 minutes |
| By author | Dish Ditty |
Ingredients
1 bottle Beer
1-2 teaspoon Garlic Salt
1/2 teaspoon Seasoned Pepper
2.5lb Bone-in Chicken
Your favorite BBQ Sauce
Directions
Step 1
Add about 2.5 pounds of chicken thighs with one beer and sprinkle garlic salt and seasoned pepper. I did about 1/2 tsp seasoned pepper and 2 tsp garlic salt. Seal and refrigerate for at least one hour.
Step 2
Grill as usual. For half the chicken, dip or slather in bbq sauce when the chicken is about 3/4 of the way done and continue cooking to finish the chicken and set the glaze. I like to do two layers of BBQ sauce. Leave the other chicken pieces alone, leaving them BBQ sauce free. Serve side by side.