Immerse yourself in the vibrant seaside ambiance of Leblanc Los Cabos as we dive into the exquisite world of their signature Fried Fish Tacos.
Fish Tacos from Leblanc Spa Resort Los Cabos
Ingredients
corn tortillas
mexican tempura fried fish
chipotle cole slaw
tomatillo salsa
pico de gallo salsa
Note
Click on the following links for the recipes:
Directions
Step 1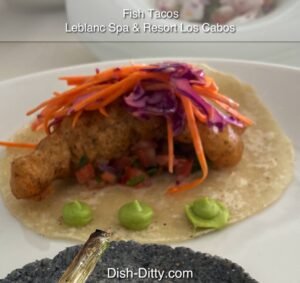 Using the recipes listed in the notes, put together your fish tacos with: Corn tortilla, fried tempura fish, pico de gallo, tomatillo salsa and Mexican coleslaw.

For an exact replica of the Fish tacos at Leblanc Los Cabos, the coleslaw will only have carrots and purple cabbage, lime juice and chipotle mayonnaise.
See Recipes below for each layer of the taco:
Mexican Tempura Fried Fish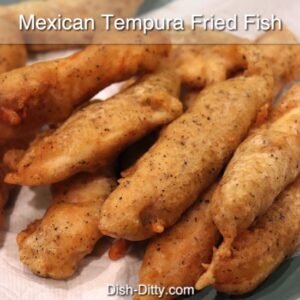 Ingredients
4 fish filets (tilapia or other like fish)
2 cups flour
1 tablespoon granulated onion (or powder)
1.5 tablespoons granulated garlic (or powder)
2 teaspoons ground black pepper
1 teaspoon thyme
1 teaspoon oregano
1.5 teaspoons chile powder
1 teaspoon ground cumin
4 teaspoons salt
1 light beer (like bud or stella)
1/4-1/2 cup water
Note
Video making Fried Fish for Fish Tacos
Directions
Step 1
In a deep pot, heat vegetable oil to 370-375 degrees F. Keep the oil at this temperature and make sure it stays consistent.

Step 2
Mix together the dry ingredients, using a whisk to make sure the spices and flour are mixed well.
Step 3
Add the beer and using a whisk, mix together. Add a little water and mix until you get to the correct consistency (view video for consistency if you aren't sure).
Step 4
Set aside a plate with paper towels to drain the fish
Step 5
Slice fish if you want fish tacos. Gently dip fish into batter then into the oil. Gently turn the fish over as it is frying and be sure to fry in small batches. Drain on paper towels. Serve in tacos, burritos, sandwiches or just all by itself.
Pico de Gallo Salsa
Ingredients
1 cup red onions (finely diced)
2 cups tomatoes (diced)
1/2 bunch cilantro (finely chopped)
2 tablespoons lime juice (or to taste)
1/2 teaspoon salt (or to taste)
Directions
Step 1
Mix all ingredients together. Serve immediately or refrigerate. Use within a couple hours for best flavor and texture.
Chipotle Coleslaw
Ingredients
1/4 red onion (thinly sliced)
2 carrots (grated)
1/4 bunch cilantro (chopped)
2 cups cabbage (chopped)
1/2 lime (juice from lime)
2 tablespoons chipotle mayonnaise (see notes for recipe)
Note
Directions
Step 1
Mix all ingredients together. Let it set for about 10 minutes before serving.
Tomatillo Salsa
Ingredients
7 tomatillos (cut in half)
2 cloves garlic (peeled whole)
1 white onion (peeled and quartered)
1/2 cup water
1 jalapeño
1 teaspoon salt (plus more to taste)
1 avocado
1/2 bunch cilantro
Directions
Step 1
This recipe is prepared in a blender or food processor. Start by adding the tomatillos, garlic, onion, jalapeño (with seeds for spicy or without for mild), and water. Blend until smooth. Add the salt and blend. Add the avocado and blend until smooth. Add the cilantro and blend until smooth. Serve with chips or on your tacos and burritos.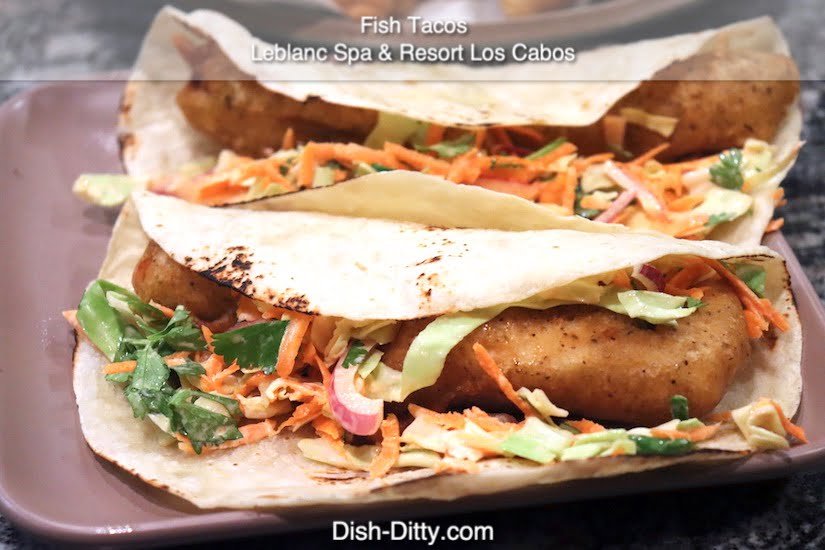 Immerse yourself in the vibrant seaside ambiance of Leblanc Los Cabos as we dive into the exquisite world of their signature Fried Fish Tacos. This culinary gem is a testament to the resort's commitment to creating unforgettable dining experiences, whether you're lounging poolside or savoring the ocean breeze by the water's edge. Indulging in these tantalizing fish tacos allows you to relish the sun-soaked atmosphere and flavors that have become synonymous with the resort's renowned culinary offerings.
The Fried Fish Tacos from Leblanc Los Cabos present a harmonious marriage of fresh fish, traditional seasonings, and a medley of vibrant toppings that ignite your taste buds with every bite. Picture yourself biting into a perfectly crisp and golden shell that gives way to succulent and flaky fish, seasoned to perfection. The combination of fresh lime juice, zesty salsa, and creamy avocado crema creates a symphony of flavors that transport you to the heart of Mexico's culinary heritage. Each taco is a masterpiece, expertly crafted to deliver a perfect balance of textures and tastes, providing a burst of freshness with each mouthwatering morsel. Whether enjoyed poolside or oceanside, these Fried Fish Tacos capture the essence of Leblanc Los Cabos, offering a culinary journey that is as captivating as the breathtaking surroundings.
Visit the Facebook group for Leblanc Los Cabos:
There is a couple of great Facebook groups out there for traveling to Palace or Leblanc resorts. For the resort this recipe was from, visit the Le Blanc Spa Resort Los Cabos Palace Resorts Guests & Members Page
Also, be sure to join the Moon Girl – Palace Resorts Traveler Information page for insights into all the palace resorts. There is a video of our entire adventure being taught the ins and outs of Mexican cuisine by Chef Edgar. Click here to watch the video taken by Mimi for all the recipes that were taught as part of our cooking class (you must join the group to see the video). Be sure to connect with Mimi Cairns if you want to book a trip to any of the Palace or Leblanc resorts.
I have put a couple articles together from my travels to Leblanc Spa Resort Los Cabos, please feel free to read to get a better idea on what to expect when traveling there as well as the best ways to book to get the most benefits and the best pricing.