One of my favorite ways to make French toast. Using Nob Hill Dutch Crunch leftover bread.
A little dash of this, a dash of that, and viola! Breakfast is served… Enjoy!
French Toast
Print recipe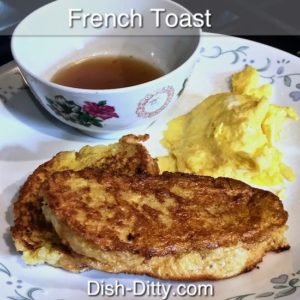 Ingredients
6 eggs
1/4 cup coconut milk (or other milk of choice)
1 dash nutmeg
1/4 teaspoon cinnamon
1 teaspoon vanilla
1/2 Loaf dutch crunch bread (day old, Nob Hill)
1/4 cup butter
Directions
Step 1
Whisk eggs with coconut milk, nutmeg, cinnamon and vanilla. In pan, add 2 Tbl butter and heat on medium until butter starts to froth but isn't browned/burned. Dip bread into egg mixture and fry in butter. Place on paper towels when done to remove excess butter. Serve with maple syrup or syrup of choice. Or just sprinkle with powdered sugar.