Delight in the classic comfort of a well-made breakfast dish with our homemade French Toast recipe. This guide presents a simple process to create the best French Toast, transforming everyday ingredients into a breakfast feast that's golden, custardy, and brimming with flavor.
French Toast
Print recipe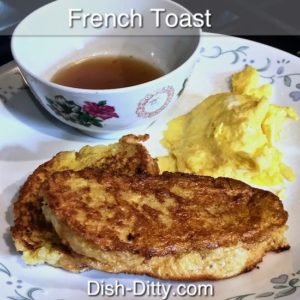 Ingredients
6 eggs
1/4 cup coconut milk (or other milk of choice)
1 dash nutmeg
1/4 teaspoon cinnamon
1 teaspoon vanilla
1/2 Loaf dutch crunch bread (day old, Nob Hill)
1/4 cup butter
Directions
Step 1
Whisk eggs with coconut milk, nutmeg, cinnamon and vanilla. In pan, add 2 Tbl butter and heat on medium until butter starts to froth but isn't browned/burned. Dip bread into egg mixture and fry in butter. Place on paper towels when done to remove excess butter. Serve with maple syrup or syrup of choice. Or just sprinkle with powdered sugar.
There's a special kind of joy that comes from sinking your teeth into a slice of perfectly made French Toast. This homemade French Toast recipe from Dish Ditty, provides you with an easy-to-follow guide to achieving the perfect balance between a crispy exterior and a soft, custard-like interior. For those wondering how to make French Toast that's restaurant-worthy, this recipe is a treasure.
Creating the best French Toast starts with choosing a quality bread and whipping up a rich, custard mix to dip it in. This easy French Toast recipe guides you meticulously through each step, ensuring that you end up with beautifully golden, custard French Toast every time. With this recipe, you can have a deliciously satisfying breakfast on the table in no time, making it the ideal quick French Toast recipe for those busy mornings or relaxed weekend brunches.
What sets this classic French Toast recipe apart is its adaptability. It serves as a blank canvas that allows you to experiment with a myriad of French toast toppings. From a simple sprinkle of powdered sugar or a generous pour of maple syrup to fresh seasonal berries or a dusting of cinnamon, the topping choices are as boundless as your imagination. This recipe truly gives you the freedom to create your version of the perfect French Toast, delivering a custom, decadent breakfast experience every time. Try it, and experience firsthand why this is the best French Toast recipe you'll find.