The Instant Pot is taking the home cooking world by storm. This Instant Pot Teriyaki Salmon Recipe is super easy and perfect for a weeknight dinner.
Instant Pot Teriyaki Salmon
Print recipe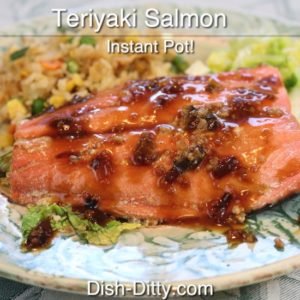 Ingredients
salmon (raw, skin on)
napa cabbage (about 3 leaves for each layer of salmon)
teriyaki baste & glaze (teriyaki sauce that is thickened)
salt & pepper
Note
You can use any teriyaki glaze of your choice. This won't work well with a liquid style teriyaki. For simplicity, I use Kikoman Garlic & Onoin Teriyaki Baste & Glaze.
Directions
Step 1
Using an instant pot in pot, add 1 1/2 cups of water and set to saute.
Step 2
Next use a pot-in-pot with steamer lid, layer with napa cabbage, salt, salmon (skin down), teriyaki baste & glaze. You can do as many as 3 layers.
Step 3
Place pot in the instant pot, cover, set to sealing with 4 minutes on low pressure manual. Do a quick release. Serve hot with the napa cabbage. (If cooking from frozen state, set time to 7 minutes)
I love my Instant Pot, although I don't think I'm quite a Pot Head, where everything has to be made in the Instant Pot. Some things lend themselves to the Instant Pot style, others do not. This is one of those recipes that I think is enhanced by the Instant pot.
Enjoy!
---