This is a very moist and tasty cupcake that will make your dairy free friends happy and no one will know or care that they are dairy free.
Fresh Strawberry Cupcakes (Dairy Free)
Print recipe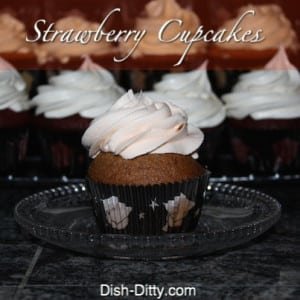 | | |
| --- | --- |
| Serves | 24 |
| Prep time | 15 minutes |
| Cook time | 25 minutes |
| Total time | 40 minutes |
| By author | Dish Ditty |
Ingredients
3 cups All Purpose Flour
2 teaspoons Baking Soda
1 teaspoon Salt
1 cup Vegetable Oil
4 Eggs
2 cups Granulated Sugar
2 teaspoons Vanilla
1 1/2 cup Pureed Strawberries (strained if desired)
1 teaspoon Lemon Zest
Red Food Coloring (optional (not used in picture))
Directions
Step 1
Preheat oven to 350 degrees. Prepare cupcake tins by lining with cupcake papers.
Step 2
In a mixer, beat vegetable oil, sugar and eggs together for about 2-3 minutes. Add vanilla, strawberries and lemon zest and beat for another minute to combine. Slowly add in the flour mixture, being sure to combine well. Beat for about 2-3 minutes.
Step 3
Pour batter into cupcake tins filling about 2/3. Bake at 350 degrees for 15-20 minutes, or until toothpick comes out clean.
Step 4
Cool and frost with buttercream or cream cheese frosting. I used a vegan frosting since I needed to make them dairy free.
---
Frosting
Vegan Almost-Buttercream Frosting
Print recipe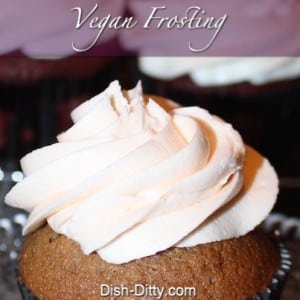 Ingredients
1/2 cup Butter Flavored Crisco
1/2 cup Vegan Butter Substitute
1lb Powdered Sugar
1/4 cup Water
2 teaspoons Vanilla
Directions
Step 1
Beat butter and shortening until fluffy. Add vanilla and 1/8 cup of water. Beat until well combined. Using slower speed on mixture, slowly add powdered sugar. Increase speed to high and beat at high for about 5 to 10 minutes or until light and fluffy. Add more water to thin and more powdered sugar to thicken.

I find that using the full 1/4 cup is the perfect balance for icing cakes, but I tend to add more powdered sugar to make it slightly thicker for decorating.
---
I was looking for a great dairy free cupcake recipe when I ran across "A Dash of Sass" recipe for Fresh Strawberry Cake.  This is an adaptation of that cake. As you can see from her picture, she added red food coloring to give the cake a pink hue.  I chose to not add the food coloring and instead tinted the frosting pink.
For a completely dairy free cupcake, try our Vegan Almost Buttercream Frosting shown above.