Guest Ditty Judy returns with her weeknight homemade Macaroni & Cheese recipe. I've had this many times at her house and is 10x better than any boxed version.  I still love my mom's Mac & Cheese too, but this one stands up to it.
Stovetop Macaroni & Cheese
Print recipe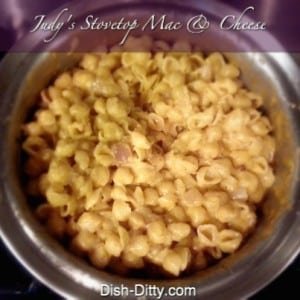 Ingredients
1lb Macaroni or Shell Noodles
2 tablespoons Butter
3 Shallots (diced (see notes))
2 tablespoons Flour
1 1/2 cup Hot Milk (microwave for 2 minutes)
1 teaspoon Dry Mustard
1/2 teaspoon Nutmeg
1/2 teaspoon Black Pepper
7 Slices American Cheese
1 to 2 cup Shredded Cheddar Cheese ((see notes))
Note
1) You can substitute 1/2 of a yellow onion for the shallots.  I use shallots due to an onion allergy in the family.
2) The amount of shredded cheese will vary depending on the type of cheese you use.  If you are using sharp cheddar, you may need only 1 cup.  If you are using mild cheddar, or the Mexican cheese blend (my kids' favorite), then you may want additional cheese to get a better flavor.
Directions
Step 1
Boil noodles according to directions, rinse & drain then set aside.
Step 2
In the same pan, melt the butter and cook the shallots until soft. Stir in the flour until absorbed. Reduce heat to low and all the hot milk all at once. Add the dry mustard, nutmeg & black pepper, and stir the milk mixture until thickened and bubbly.
Step 3
Add the American cheese, stirring after each slice until melted and incorporated in. Stir in 1 cup of the shredded cheese and stir until melted. If desired, add additional cheese until you get the cheesy flavor you want.
Step 4
Stir in the noodles, and cook on low until heated through.
Step 5
If desired, you can put the macaroni & cheese into an oven-proof pan and bake at 3500 until a crust forms on top.
---
Guest Author Judy

My mother would make home-made macaroni & cheese in the oven when we were kids, and it has always been a family favorite.   Being a working mom, I wanted to be able to make "homemade" mac & cheese but I didn't have the time to bake it for an hour.   The recipe I put together uses a cheese sauce, and is now my kids' favorite.  It takes about 30 minutes and makes a great weeknight side dish.