Not just for the Ovo Vegetarians, this breakfast casserole is great for a crowd. This can be made in advance and kept refrigerated.  If you do that, you will want to include extra baking time.
You can make this dish with regular sausage and regular cheese as well for a meat lovers breakfast.

Vegetarian Breakfast Casserole (Dairy Free)
Print recipe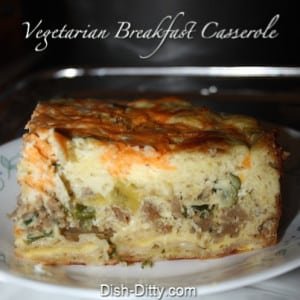 | | |
| --- | --- |
| Serves | 12 |
| Prep time | 20 minutes |
| Cook time | 1 hour |
| Total time | 1 hour, 20 minutes |
| By author | Dish Ditty |
Ingredients
1 Package Gimme Lean Vegan Sausage
3 Flour Toritllas (Medium size, 1 whole and 2 sliced in half)
Pam Spray
4 Green Onions (diced)
1 tablespoon Vegetable or Olive Oil
3-4 Zucchini/Squash (diced)
4 Slices Orrowheat Potato Bread (crust removed)
8oz Vegan Cheese
12 Eggs
1/4 teaspoon Salt
1/8 teaspoon Pepper
Directions
Step 1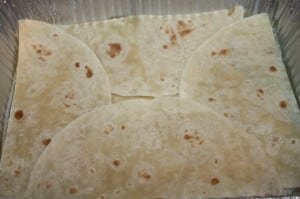 In 1/2 sheet aluminum pan, spray with Pam and layer tortillas as shown in picture.
Step 2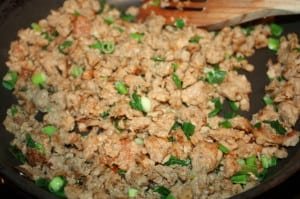 In a skillet, brown sausage. Add the green onions and cook for about 2 minutes until green onions become soft.
Step 3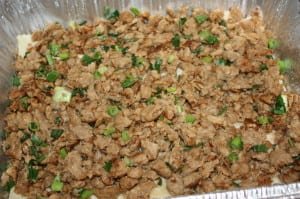 Then layer the sausage/green onion mixture on top of the tortillas.
Step 4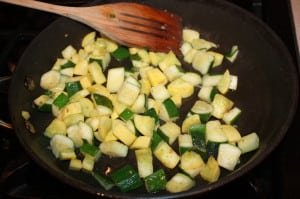 In the same skillet, add vegetable oil and cook diced squash and zucchini for about 3-4 minutes on medium heat, or until done to your likeness. I prefer them to be slightly crunchy still.
Step 5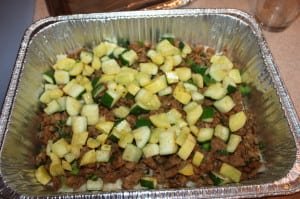 Add the cooked squash on top of the sausage.
Step 6
Break up bread into smaller pieces and place on top of the zucchini mixture.
Step 7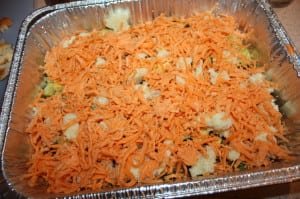 Add the vegan cheese on top of the bread.
Step 8
Whisk the eggs with the salt and pepper and pour on top of the cheese. It should flow down through the ingredients. Push down the cheese and ingredients if needed.
Step 9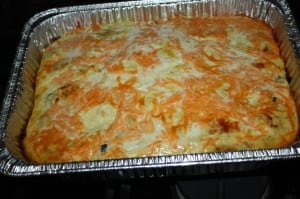 Bake in preheated 325 degree oven for 45 minutes to 1 hour or until the eggs are cooked fully. You will know when they are cooked as a toothpick will come out clean.
Step 10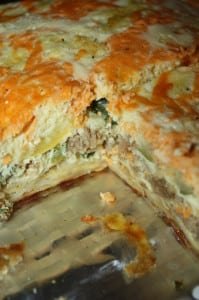 Remove from oven and let rest for about 10 minutes and serve.