It's always good to write down the basics.  These are my goto way of cooking potatoes.  I like the no fuss no muss style of cooking, and these fit the bill.  Yummy Garlic Roasted Potatoes go with almost any dinner.
I apologize for not having exact measurements.  I never measure when I make these since sometimes I make a little, and sometimes a lot.
Garlic Roasted Potatoes
Print recipe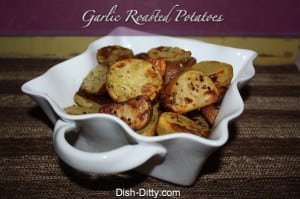 | | |
| --- | --- |
| Prep time | 15 minutes |
| Cook time | 1 hour, 15 minutes |
| Total time | 1 hour, 30 minutes |
| By author | Dish Ditty |
Ingredients
Red Potatoes
Olive Oil
Minced Garlic
Garlic Salt
Italian Herb Seasoning
Cooking Spray (aka Pam)
Note
Use leftover potatoes in a tasty potato salad.  Just mix with mayo, a dash of vinegar, salt, pepper, onions (red or yellow), and celery.  Add some hard boiled eggs if you desire.
Directions
Step 1
Scrub potatoes to clean. Cut into pieces, leaving the skin on.
Step 2
In a large bowl, toss the potatoes with enough olive oil to coat. Add a couple tablespoons of minced garlic (the more the merrier if you ask me). Sprinkle on the Garlic Salt and Italian Herb Seasoning. Don't add too much salt, Just sprinkle and toss. I didn't put measurements, because it depends on how much potatoes/etc. I just sprinkle. 🙂
Step 3
Next, layer a cookie sheet with tinfoil. Lightly spray with Cooking spray (like Pam). Put the potatoes on the cookie sheet, keeping them in a single layer (if you don't, they won't all get browned).
Step 4
Place in a 190 degree oven for 45 minutes. This will cook the potatoes all the way through without worrying about them getting burned.
Step 5
Increase the temperature to 425 degrees and cook for 15-30 minutes, or until the potatoes are lightly browned (or however brown you like them). Remove them from the oven and serve hot.